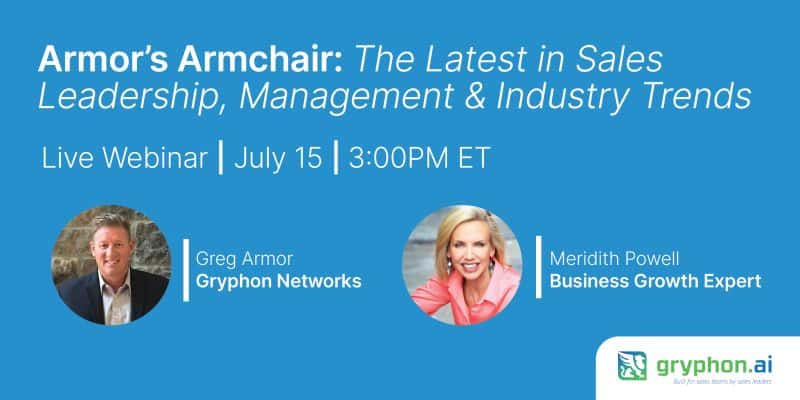 Armor's Armchair Ft. Meridith Elliot Powell:
Gryphon's EVP of Sales, Greg Armor interviews top sales experts across multiple industries to discuss the latest in sales leadership, sales management, industry trends, and more. These one-on-one brief interviews will give you a deeper understanding of what other sales leaders handle on a day to day basis.
In this webinar, Greg Armor and Meridith Elliott Powell discuss:
Sales strategies that will help managers and increase opportunities
How to turn uncertainty into your competitive advantage
Motivational strategies and tips to kick off Q3
Industry trends and more!
Faced with signs of economic uncertainty in the second half of the year, sales leaders across all industries are turning their focus to managing budgets and supporting revenue – but…
Episode 4 Ft. Sofia Rodriguez: Gryphon.ai EVP Greg Armor interviews top sales experts to explore the methodologies that these leaders have developed and practice at their organizations. This mini-series featuring The…
Episode 3 Ft. Richard Harris: Gryphon.ai EVP Greg Armor interviews top sales experts to explore the methodologies that these leaders have developed and practice at their organizations. This mini-series featuring NEAT,…