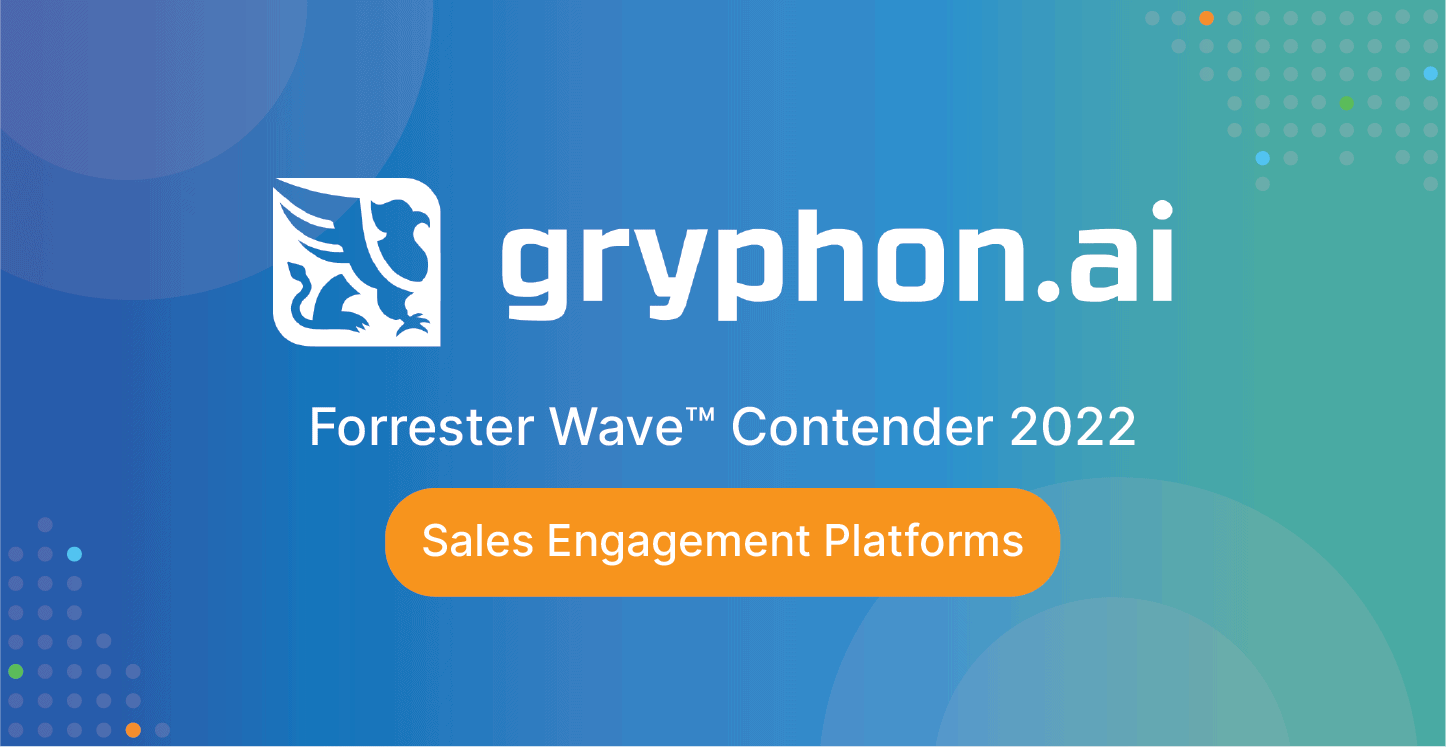 AI-powered, real-time conversation intelligence platform evaluated on offering, strategy and market presence
BOSTON, Oct. 4, 2022 — gryphon.ai, the leading platform for AI-powered sales intelligence and real-time guided coaching, today announced that it has been recognized as a contender in The Forrester Wave™: Sales Engagement Platforms, Q3 2022 Report.
According to the report, gryphon.ai was recognized as superior in compliance with the best voice solution capabilities evaluated.
"We are incredibly proud to be named a contender in this year's The Forrester Wave™: Sales Engagement Platforms Report, Q3 2022," said Jeff Fotta, CEO at gryphon.ai. "As a relentless partner for our customers, our real-time guided technology and conversational intelligence capabilities allow sales teams to improve revenue generation without worrying about compliance headaches along the way. We're always honored to be recognized by Forrester for the value we provide to organizations across industries."
With an emphasis on real-time guidance, gryphon.ai enables sales leaders to integrate the platform's AI and voice-powered technology to coach sales teams, improve call performance and increase revenue generation with faster pipeline engagement. For organizations handling a large volume of calls or working in a compliance-heavy industry, gryphon.ai focuses on building AI-based voice solutions that improve conversational intelligence capabilities for sales reps while ensuring calls remain compliant.
Other features of the Gryphon ONE Platform include:
Mitigating compliance risk by being the only sales platform to offer real-time insights. gryphon.ai arms sales teams with their cloud-based, in-the-moment sales compliance and risk management architecture that won't bottleneck the overall sales process. Reps can see if the number they are calling is compliant with state, federal, and other regulations through gryphon.ai's unique Click-to-Dial programming. gryphon.ai enables customers to feel at ease knowing that all calls are compliant with any internal or external regulations, diminishing any risk or potential fines that the customer's business could incur.
Increasing customer pipeline activity by 25%. The Gryphon ONE Platform empowers sales reps by increasing contact effectiveness through marketing and sales automation. This approach is supported by a centralized location for customers' live data and analytics so sales teams can efficiently access and utilize insights.
Improving Real-Time Coaching: gryphon.ai's technology captures and records calls in real-time to deliver the insights sales reps need to accelerate the sales cycle, relying on gryphon.ai's tier-1 telephony network for accuracy. With conversation intelligence, companies can better coach sales reps and improve performance across teams.
To learn more, visit https://gryphon.ai/.
About gryphon.ai
gryphon.ai is an innovator in voice-driven sales technology, providing the only real-time, AI-powered conversation intelligence platform with in-the-moment call coaching and guided selling. The foundation of the gryphon.ai platform is a carrier-grade communication network that provides crystal clear audio for highly accurate transcription and relevant real-time intelligence for all your sales calls. Infused with business intelligence and AI, the platform provides automation and visibility into the key sales performance analytics and insights that drive sales effectiveness helping clients grow revenue faster. For more than 20 years, gryphon.ai has supported our clients' growth initiatives by aligning sales and marketing functions to deliver higher-performing campaigns. From Fortune 100 enterprises to small and medium-sized businesses gryphon.ai's clients achieve superior sales results and make better data-informed decisions than their competitors. Visit gryphon.ai for more information.
Gryphon.ai Announces Gryph for Collections for AI-powered Collections Compliance Gryphon.ai protects enterprises against compliance risks for debt collection BOSTON, June 6, 2023 – Gryphon.ai, the leader in compliance and AI-powered…
TCPA and DNC Compliance: Buy a Solution or Build Your Own? View the full infographic here In today's vendor-centric market grounded in innovative thinking and development, when an organization needs…
Is your business legally calling consumers in these states? View the full state-by-state map here While navigating shifting market conditions in 2023, most organizations cannot afford TCPA or…