Industry Leader Gryphon Networks Named Best Call Compliance Software By G2 Crowd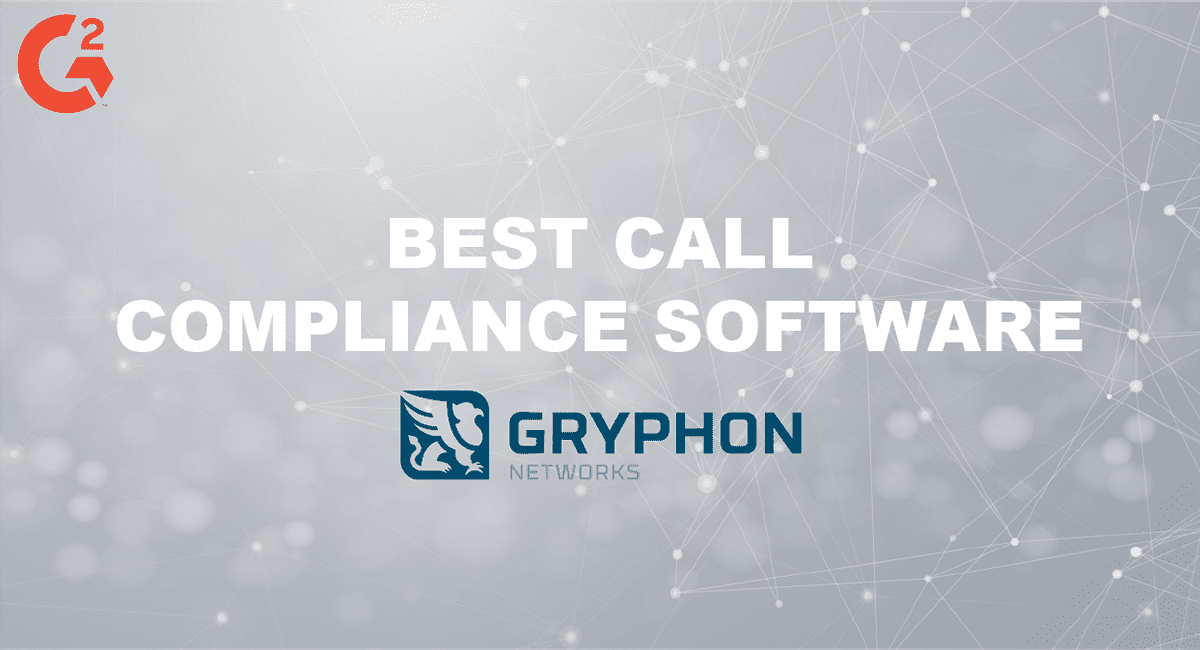 BOSTON, March 24, 2020 — Greg Armor has been named Executive VP of Sales at Boston-based SaaS company Gryphon Networks. Armor brings with him 20 years of SaaS sales experience that will accelerate Gryphon's go-to-market strategy.
"We are excited to welcome Greg Armor to the Gryphon Team as we continue to grow and further establish ourselves as an industry leader in the SaaS sales management space," stated CEO Jeffrey Fotta. "Greg will be a great addition to the Gryphon Executive Team."
Armor thrives on scaling successful businesses, building strong teams, and establishing long-term client relationships. "I am really excited to lead the Gryphon growth strategy by helping our current and future clients accelerate their revenue using our integrated SaaS platform," he stated.
Armor spent the last 3.5 years at BitSight building and leading their sales organization, growing top-line revenue by 15x. Prior to joining BitSight, he served 5 years as the Senior Vice President, World-Wide Sales at Tangoe experiencing the same level of hyper-growth. Armor also held similar leadership positions at MaaS360 (sold to IBM) and Avaya.
About Gryphon Networks
Gryphon Networks is an industry leader providing an integrated, rules-based outbound SaaS communication platform delivering data insights helping clients increase revenue while protecting their brand reputation.
For over 20 years, Gryphon has been committed to meeting client growth initiatives aligning Sales, Marketing and Compliance teams accumulating over 1,500 years of calling data experience with zero violations. Gryphon has worked with Fortune 500 companies, as well as small and medium businesses helping them drive data-informed decisions with user-friendly dashboards for their go-to-market teams.
Contacts
Ashleigh Popera
Gryphon Networks
(617) 279-2623
apopera@gryphonnetworks.com
---
Navigating the state and federal regulatory maze while mitigating risk is becoming more daunting every day for compliance leaders. Especially when dealing with agents in branch offices, reps using personal phones, or independents and BPOs marketing on your behalf. For almost 20 years, Gryphon has protected the largest and most valued brands in banking, insurance, manufacturing and home services from headline risk, brand damage, and costly fines associated with outbound marketing violations.
Avoid TCPA and DNC fines. Protect your business from TCPA and DNC Risk. The Cost of non-compliance extends far beyond the risk of fines. Since 1998, Gryphon's highly patented suite of compliance services provides bulletproof compliance and protection from headline risk, brand damage, and costly penalties.
Our services apply all legal exemptions to those laws to help your business grow, and our experts provide customized consulting and support with expanding regulations. Bullet-proof compliance is only half the equation used to solve TCPA and DNC compliance issues. Gryphon's intelligent cloud engine automatically applies legal exemptions (opt-ins) to make sure you are not over-suppressing legal contacts who want to hear from you. Gryphon's Secure Cloud engine unlocks your largest marketable universe to maximize your outreach and protect every opportunity.
Gryphon.ai Announces Gryph for Collections for AI-powered Collections Compliance Gryphon.ai protects enterprises against compliance risks for debt collection BOSTON, June 6, 2023 – Gryphon.ai, the leader in compliance and AI-powered…
TCPA and DNC Compliance: Buy a Solution or Build Your Own? View the full infographic here In today's vendor-centric market grounded in innovative thinking and development, when an organization needs…
Is your business legally calling consumers in these states? View the full state-by-state map here While navigating shifting market conditions in 2023, most organizations cannot afford TCPA or…