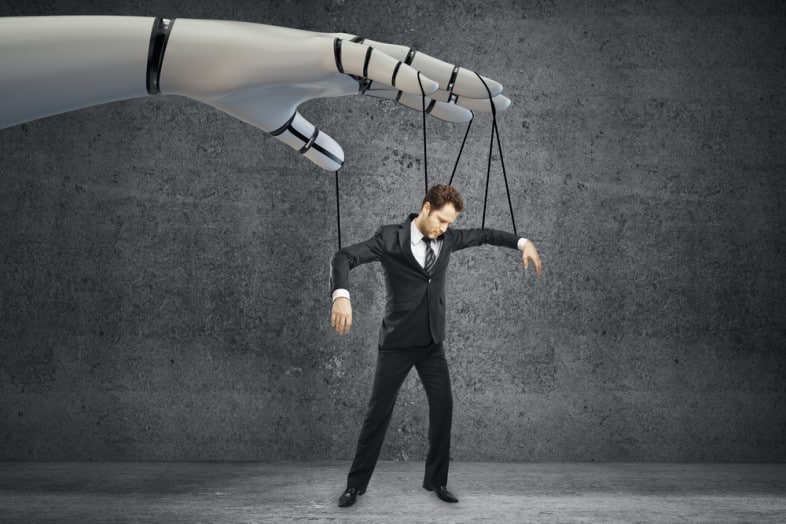 This article was written by Gryphon Networks' CRO Eric Esfahanian for MarTech Advisor's Industry Insights.
There is much hype around sales intelligence these days. Companies in a variety of industries are making great strides leveraging AI to extract and learn from data. This is particularly heating up in the sales industry. According to McKinsey Global Institute, 40% of time spent on sales activities can now be automated by AI technologies that already exist. But is Artificial Intelligence the future of sales? writes, Eric Esfahanian Chief Revenue Officer, Gryphon Networks
Despite all the headlines, movies, television shows and prevalence of chatbots, artificial intelligence (AI) is not taking over, at least not anytime in the immediate future. Certainly, there's a need for AI and its ability to automate processes and mimic human behavior, but the notion that it's taking our jobs is moot.
Companies in a variety of industries are making great strides leveraging AI to extract, learn from and act on massive amounts of data, and we're starting to see this heat up in a new space: sales.
The Emergence of "Smart" Sales Solutions
The McKinsey Global Institute found that 40% of time spent on sales activities can now be automated by AI technologies that already exist. Tedious tasks including manual CRM data entry can be automated by embedding AI into CRM databases and salesforce automation software. In fact, companies using AI are able to increase leads by 50%, increasing both lead quantity and quality. However, the effects of AI are more than time-saving; automation has been found to increase job satisfaction and build stronger relationships across sales teams.
At the end of 2016, CenturyLink invested in "Angie", an AI-powered sales assistant by Conversica, to help the company better identify leads without sales reps having to manually comb through their database. Angie sends 30,000 emails per month, analyzes responses to identify promising leads, and assigns them to the appropriate salesperson, saving reps time and increasing efficiency. "Amy" and "Andrew", new virtual assistants by X.ai, respond to messages about meetings and calls without alerting the sender that they are robots, and Amazon is beginning to train "Alexa" to recognize speech patterns. While these examples of AI in the workspace are impressive, it is not the future of sales. Let's pause for a minute and remember what the most important component of sales is: Us! Human beings!
Why Human Beings Still Matter
Sales is about interacting with prospects and customers, and continually building and maintaining those relationships. Whether you're selling lemonade on the corner or software to large corporations, sales is as much of an art form as it is a science. The typical sales process is a process, which requires prospecting, engaging, showcasing the service or product, negotiating and constantly communicating. Questions and concerns will always arise, whether it be about pricing, competitor differentiators or contract details.
Sales effectiveness lies in the ability to uniquely explain the value of a service or product to vastly different audiences. AI sales solutions can help in directing customers toward standard documents of vendor comparisons and pricing options, but context will always be lacking in the absence of human beings. It's far more effective to personally explain a company's product differentiators and negotiate on pricing in person, using relatable anecdotes and known customer pain points throughout the sales process.
A Balanced Combination is Key
So, what's the best path forward? Are sales professionals better off ignoring technology and the incredible advances in AI altogether? Absolutely not. Instead, sales professionals should look to AI and machine learning to augment their individual, human effectiveness.
By automating tedious sales activities such as gathering customer and product information, processing transactions, and preparing contracts, AI can free up significant time and energy, allowing sales professionals to focus on more important, nuanced tasks such as strategizing, coaching other reps and building relationships with prospects and customers. Sales-specific AI solutions can also be leveraged to tap into overwhelming amounts of sales call activity data and extrapolate powerful insights that can help forecast outcomes more accurately and focus outbound sales representatives on the right prospects at the right time of the sales process.
Every successful sales professional knows their job isn't about making as many calls as possible; it's about how productive you can be in progressing a sale or being useful to a customer. AI will never be able to replace all the painstaking and intuitive work required of this process, however, it can help sales professionals perform better and tend to customer needs more efficiently.
Evaluation Based on Completeness of Strategy and Performance BOSTON, Oct. 10, 2023 – Gryphon.ai, the leader in compliance and AI-powered conversation intelligence, today announced it has been positioned by Aragon…
Is your business legally calling consumers in these states? View the full state-by-state map here While navigating shifting market conditions in 2023, most organizations cannot afford TCPA or…
Gryphon.ai meets real-time compliance needs for enterprise customers on NICE's award-winning cloud–native CXone platform BOSTON, Wednesday, August 2, 2023 — Gryphon.ai today announced its Gryph automated compliance and collections solution…