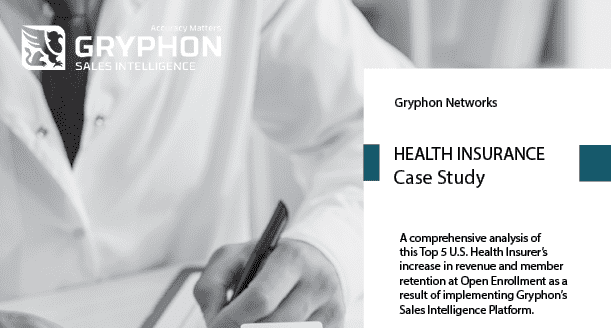 Top 5 U.S. health insurance carrier surpasses team and revenue goals with Gryphon ONE.
THE CLIENT SITUATION
With more than 3,400 field sales personnel across all 50 states, a Top 5 U.S. health insurance carrier faced the unique challenge of maintaining contact with hundreds of thousands of customers on a regular basis – all while observing each individual's unique contact preferences.
Customer interaction is the most important part of the job of an account manager, and the health insurer was looking for ways to help team members be more effective in supporting customers and communicating with their clients while on the road. "Our objective is to build ongoing relationships and to be seen by our members as informed, trusted advisors. That is the best way to ensure member loyalty," said one of the company's sales leaders. In addition to member retention, the insurer was focused on increasing the number of new client referrals from satisfied members.
With these goals established, the carrier set out to identify a technology solution that would help them track customer activity from their agents' mobile phones while remaining compliant with members' contact preferences – as well as a sophisticated set of marketing and business rules. Most importantly, the organization required a simple yet flexible system that was fully integrated with their reps' existing calling processes across large territories.
THE SOLUTION
All these objectives considered, the health insurer initiated Gryphon's Sales Acceleration Platform – a cloud-based, advanced telephony system that automatically captures and processes phone-based activity in real-time from agents using any type of phone, anywhere. With most sales agents relying on smartphones to conduct business, the Insurer worked with Gryphon to deploy a fully mobile, sales activity capturing and tracking solution. Gryphon's call monitoring and sales rep management software allowed this organization to achieve and surpass its sales goals.
The platform automatically certified dialed telephone numbers for compliance with a company-specific rules engine and each member's individual communication preference. The Gryphon mobile app was enabled on every account manager's company-issued iPhone via which they made their daily outreach calls. Because agents were often leaving voicemails to members that prompted a call-back, the Gryphon solution was configured to track inbound as well as all outbound calls.
Finally, in order to capture the most relevant context related to each customer conversation, Gryphon enabled account managers to quickly "tag" a call with a predefined outcome using a simple keypad sequence at the end of each call. As a result, call results like "set appointment" or "call back later" could be captured via the phone immediately after a call concluded, instead of manually via CRM. This automation greatly increased activity capture and the relevance of the reported data for management analysis
THE RESULTS
The Gryphon solution drove better performance at the company, improving customer service levels and retention with increased loyalty, which resulted in many new client referrals. Account managers were empowered to make the most of their time in the field and became better able to accurately report their activity.
Over one million calls were placed to 600,000 members in nine months. The outreach program with Gryphon, when compared against a control group across several key categories, resulted in a 4% improvement in retention of team members and $5.6M in additional revenue. When extrapolated to the entire membership population, the revenue growth was estimated to be $30M annually.