Sales Acceleration Technology: Drive More Revenue, Faster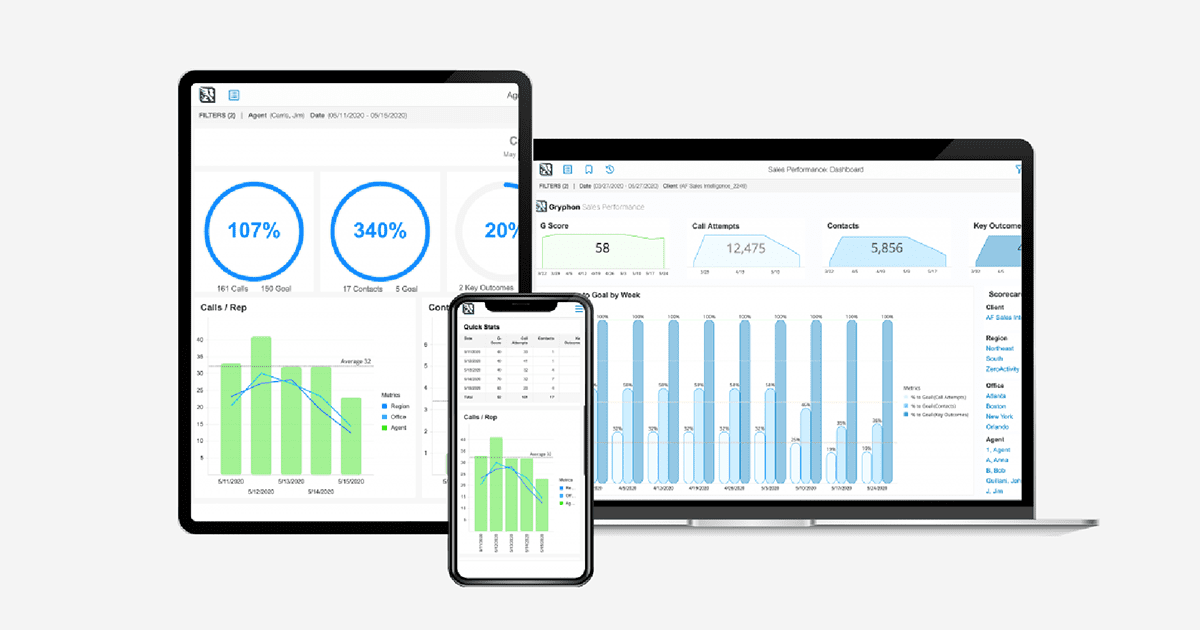 Looking to optimize the performance of your sales reps and drive more revenue? If so, implementing sales acceleration technology may be the missing piece to sales success at your organization.
The Gryphon ONE platform provides automation, real-time visibility, and sales analytics to optimize sales teams and help close business faster. Our sales acceleration technology offers dynamic dashboards, analytics, and coaching modules with a simple and effective user experience for onboarding reps efficiently to deliver revenue faster.
If you are considering implementing a sales tool at your organization, consider the features of Gryphon ONE before making your decision:
Clarify
To make reps more effective, the Gryphon ONE Platform uses machine learning to capture data over time in order to determine the best days and times to place outreach calls. This helps managers establish best practices and gives reps the best opportunity to connect with their intended audience. The platform automates screening and blocking of all outbound calls in real-time, eliminating risk as well as the need for manual list scrubbing, mitigating the risk of human error. Additionally, Gryphon ONE automates outbound screening of phone numbers against business- or campaign-specific rules and preferences and redacts sensitive information to ensure privacy.
Connect
Gryphon's secure network for real-time connectivity and visibility enables high powered AI to scale and accelerate a sales motion – even for teams working entirely remotely or from home. Carrier-grade tier-1 telephony ensures crystal clear voice while Dynamic Caller-ID protects your brand, increases answer rates, and reduces time spent on logging to increase call volume. Optional number masking and agent override can also provide flexibility without sacrificing control to increase answer rates.
Real-time connectivity options include:
Click-to-Dial, which integrates with any CRM or can stand alone, saving time for sales reps by automatically logging all call activity to related records.
The Gryphon Mobile App for iOS and Android increases flexibility to call from anywhere as your reps work from home.
Gryphon Softphone for Mac or PC let reps make calls from their computer.
800 Access Dial-in lets reps dial from any phone, anywhere, and tracks all call records.
Furthermore, DialView allows creation of custom lists, dialing directly from them, and keeps track of who is called, while PBX Integration captures all inbound and external calls from your office line.
Capture
Gryphon ONE automatically captures all sales activity in real-time, enabling sales managers to access actionable insights in their CRM and dashboards for better coaching and forecasting. Additionally, automatic call logging reduces the amount of time reps spend logging activity, removing the risk of data entry errors and allowing reps to spend more time on revenue-generating activities.
Other features that benefit sales managers include:
Call data captured via speech analytics, allowing managers to access outbound communication in real-time
Sales Activity presented in a consolidated format for sales leaders to develop recommendations to improve performance
Analysis and Audit enables sales leaders to evaluate campaign and rep effectiveness using 100% accurate, network-delivered data
Lightning-fast Query and Search for easy spot-checks as well as detailed analysis for troubleshooting
Coach
With Gryphon ONE, managers can understand rep performance against key performance indicators (KPIs) and visualize sales performance analytics via customizable dashboards and reports. Metrics are available at-a-glance using heatmaps, scorecards and color-coded visuals, and leaderboards rank top performers.
To improve coaching and onboarding, insights charts and push notifications provide summary data in a single spot. Managers can utilize targeted speech analytics to optimize the conversation effectiveness of their reps, and fuel friendly competition against teammates using the G-score, which supports gamification through a combination of KPIs.
Additionally, real-time observation and coaching is available during calls to target any obstacles reps may face as soon as they occur. Not to mention, reps can access virtual learning and coaching tools during or after a prospect conversation to improve their outreach.
Gryphon ONE
With the ability to capture sales activity and connect from any phone, anywhere while clarifying rules and regulations, sales leaders have all the tools they need to better train and coach their teams and drive revenue growth.
If you are ready to implement sales acceleration technology at your organization, contact us now.
On November 22, 2023, the Federal Communications Commission (FCC) issued a proposed rule that will drastically impact the lead generation industry as it relates to sellers and digital marketers' ability…
As lines blur between personal and work phones with the growth of remote workforces, how can you ensure your sellers are in compliance with Do-Not-Call (DNC) and Telephone Consumer Protection…
Organizations have more to worry about than just outbound calling when it comes to remaining compliant. Under the Telephone Consumer Protection Act (TCPA), all marketing calls including SMS or text…