Revenue & Sales Intelligence, In Flight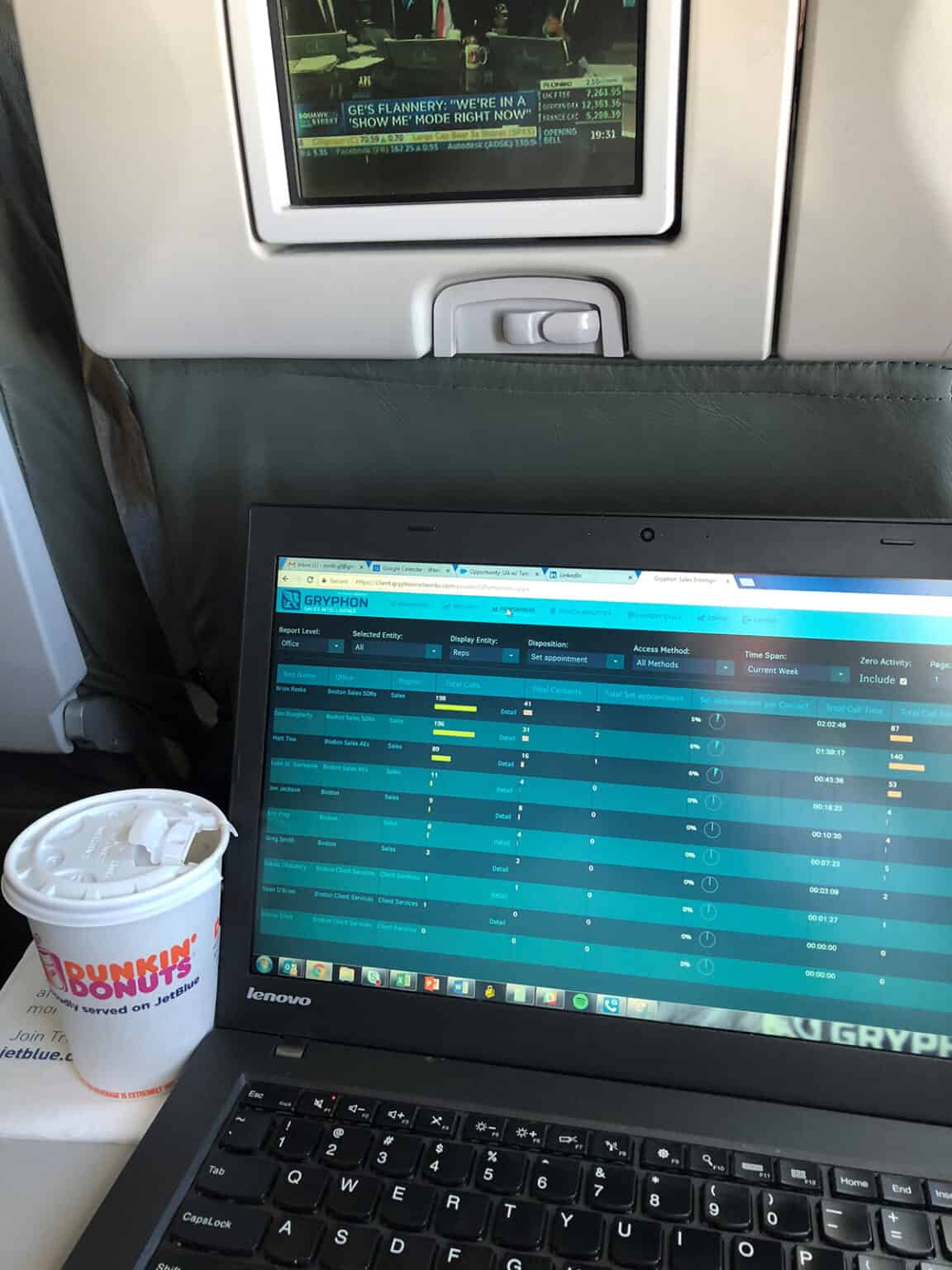 This post is a guest blog by Gryphon Networks' Director of Sales, Greg Smith. 
A Return to Revenue Generation
Sales Performance Management (SPM) is a crowded space that is destined to become more and more congested as Sales leaders and heads of company search for the ultimate tech stack to solve the eternal challenge of consistent revenue growth.
Within SPM you'll find applications that promise to automate outreach, bring qualified leads, evaluate team performance, enhance customer experiences, streamline the expense management and commission processes and so on…
While most of the tools in the SPM space provide one form of value or another, it's worth arguing that most fail to address the revenue problem.  Optimizing legacy process is great, and really, it is what most software does.  Running behind the scenes analytics to serve up "qualified" leads is attractive and en vogue.  Automating outreach and providing a scripted cadence for Reps is a nice theory, but sets unrealistic expectations.  The problem is, Sales Reps and Managers are spending far too much time on these tools, hoping, that someone will answer the call or email on the other end, and eventually buy.
Why aren't there enough serious Sales tools out there?
Hoping, managing on a hunch, and letting an application do all of the heavy lifting are all futile exercises.  Moreover, when reps and managers are spending all day in these tools, tricking out their instances, and manipulating software to sell for them – they're being lapped by their counterparts who are speaking to and meeting with prospects and customers – actual revenue-generating activity.
Sales teams should strive to be more effective, not efficient.
Sales Management in Flight
Gryphon Networks' Sales Intelligence System is only a tool for those who want to understand what is happening every day, week, month, quarter – and most importantly – for those who have a desire to improve their performance and blow through revenue targets.
On a recent flight to visit a prospect in Dallas, I was able to log-in to Gryphon's SI platform and have a complete understanding of what my team was doing at that exact moment, and was able to offer teaching and coaching points from 35,000 feet. All within a very short time period.  Then it was back to proposal writing, prospect outreach, and prepping for a pitch – revenue generating actives.  The main function of my job.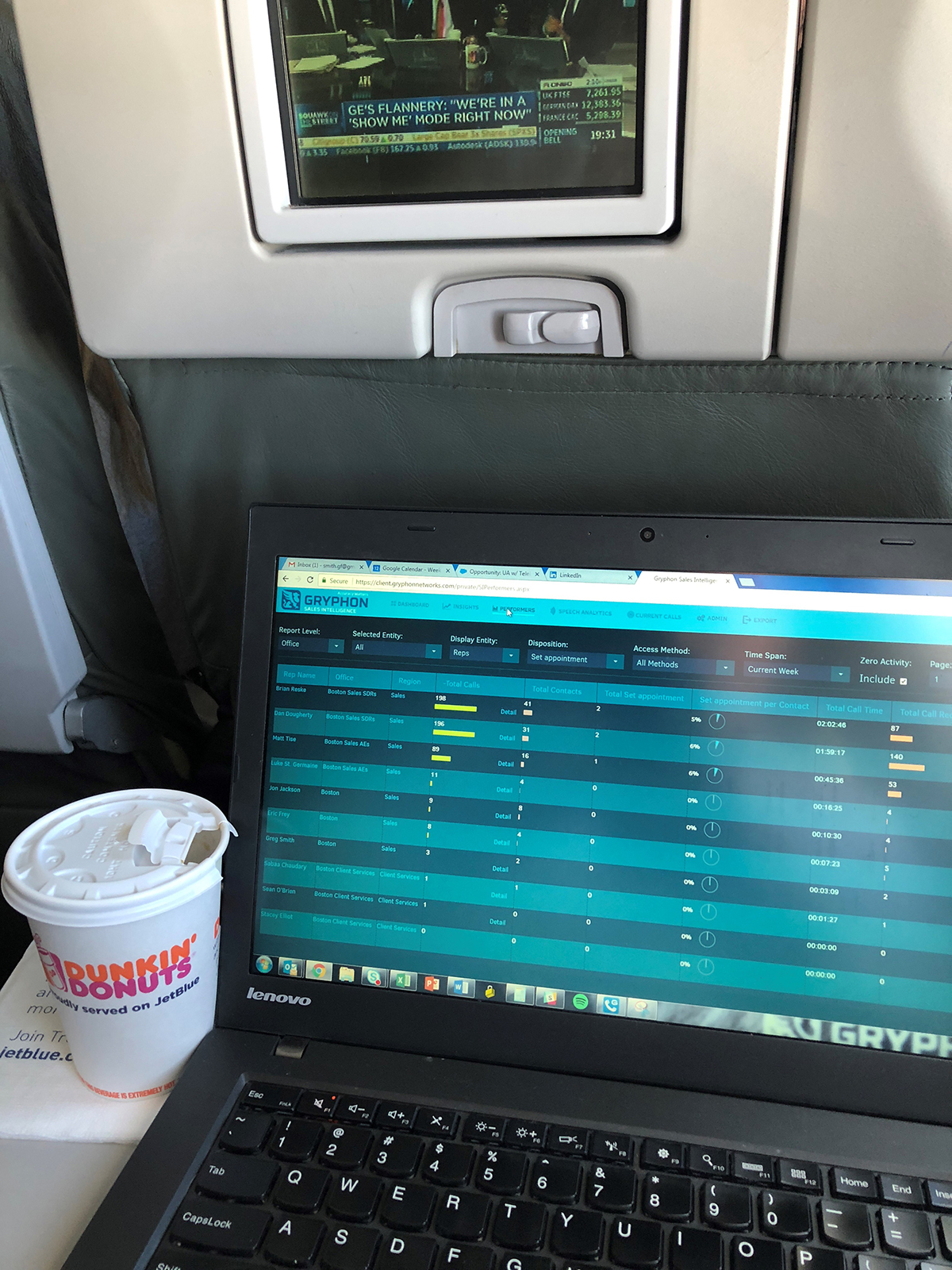 Sure, tools and applications can be valuable.  So when you're set to deploy your SPM budget, make sure you're buying a tool for the serious.
A straight-forward, easy to use tool empowers Reps to improve every day by showing them when they're the most effective and when they're making money.  Proper Sales tools allow Managers to coach and train in real time, and then spend the majority of their day on what they signed up to do – bring in revenue.
—
Greg Smith has been serving as the Director of Sales at Gryphon Networks since the start of 2017. He has experience managing multiple sales teams of different sizes, with past roles at Box, Smartling, and Oracle.
As if uncertain economic conditions weren't presenting enough of a challenge for organizations going into 2023, risk is also expanding in the form of constantly evolving Do-Not-Call (DNC) and TCPA…
When considering your business outlook for 2023, have you accounted for the laundry list of ever-changing marketing compliance regulations that your sales organization must follow to avoid costly fines and…
As organizations are growing their tech stacks to assist their remote and hybrid teams through the sales process, a conversation intelligence (CI) tool can offer insights into prospect and customer…