Why Your Sales Training Strategy Should Include A Technology Solution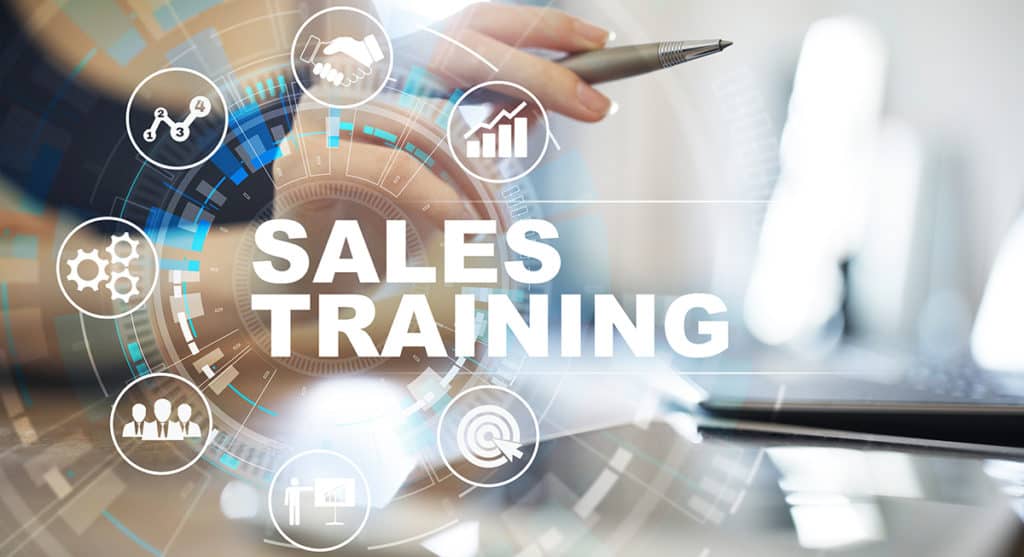 Looking to boost sales training at your organization? In 2018, more than 50% of sales teams missed quota. If you find that your team falls into that percentage, establishing a stronger sales training strategy could be the solution that turns around underperformance.
When it comes to reaching sales goals, high-performing organizations are twice as likely as low-performing organizations to provide ongoing training. However, initial sales training still seems to fail in the long run. The problem is that too many sales leaders are managing their teams without presenting them with real data, and from there, not spending enough time reinforcing the skills learned during training or measuring the results.
How managers hire, onboard, and train their teams can no longer be based on hunches. Having an established and continuous sales training strategy enforced by technology is integral to achieving sales success. 
Boost Sales Training with Technology
One of the main reasons sales leaders have a difficult time getting their teams on board for training is the lack of proof. They make decisions based on guesswork, without looking at, or even tracking the numbers. If you don't have data explaining the importance of placing a predetermined number of daily calls or having your team adhere to a particular sales script, your team will likely not understand why they have an issue.
This is where investing in a sales performance tool can transform training and your team's success rate. Companies with a dedicated sales enablement function improve their sales training effectiveness by an average 29%. Using recorded activity, managers can coach, train, and set expectations for their teams based on actual, data-driven insights. Additionally, based on third-party research and activity results from the Gryphon Sales Intelligence platform, it is shown that 3+ hours of data-backed coaching per month results in 17% higher sales goal attainment for reps.
The following graphic by Gartner displays how a SaaS sales solution can be the link to enhancing knowledge transfer between managers and reps at your organization.
One of the greatest advantages of using technology to fuel sales training is personalization, which comes in handy for managers based on the different learning styles of reps. While some individuals may respond to one-on-one sessions, others may react more positively to seeing the data firsthand and interacting with it themselves. Either way, technology serves to enhance both ways of coaching.
Further, personalization allows managers to hone-in on areas where individual reps are struggling or, alternatively, succeeding – and replicate those positive behaviors across their team.
The Importance of Training Reinforcement
Your sales team is not going to change their behaviors an hour after they receive training; training needs to be reinforced by leadership. However, managers spend less than 20% of their time on coaching – even though effective sales coaching can improve win rates by as much as 25%.
According to a report by The Sales Management Association, underperformers, new reps, and those who request coaching only receive training twice per month. However, sales coaching is not a one (or twice)-and-done task. After initial training, managers should continue to use activity data to show their teams how the most effective team members increase productivity and successfully close deals.
Following your initial training demonstration, make sure to remind reps of the new desired skills and benchmarks that have been set for them going forward. Because on average, 84% of sales training is lost after 90 days. Turning this knowledge into coachable actions will contribute to an expanded pipeline and a broadened top line, making more of your reps into effective performers—rather than relying on just a few superstars.
Measure Sales Training Results
Even if you are putting in the effort, sales training is useless if no one is measuring (and reinforcing) the results. Furthermore, if your sales team's productivity isn't increasing, you need to reevaluate your training program and make sure it is the right fit for your organization.
For every dollar a company invests in training, it receives about $4.53 in return – which is equivalent to a 353% ROI. So, don't be afraid to invest in a technology solution to advance your training programs. By deploying processes and technologies to measure tactical sales initiatives, sales leaders can help their reps build accurate forecasts and set a standard course of action in place that is proven to lead to successful results.
Many businesses rely on Do Not Call (DNC) scrubbing tools to comply with Federal, State, and other regulations as they face the challenge of maintaining marketing compliance. But, with the…
In the fast-paced world of marketing compliance and consumer debt collection, staying up to date with the latest regulations and maintaining compliance is crucial for businesses. The ever-evolving regulatory landscape…
Gryphon.ai meets real-time compliance needs for enterprise customers on NICE's award-winning cloud–native CXone platform BOSTON, Wednesday, August 2, 2023 — Gryphon.ai today announced its Gryph automated compliance and collections solution…