SDR Spotlight: Interview with Joe Mahoney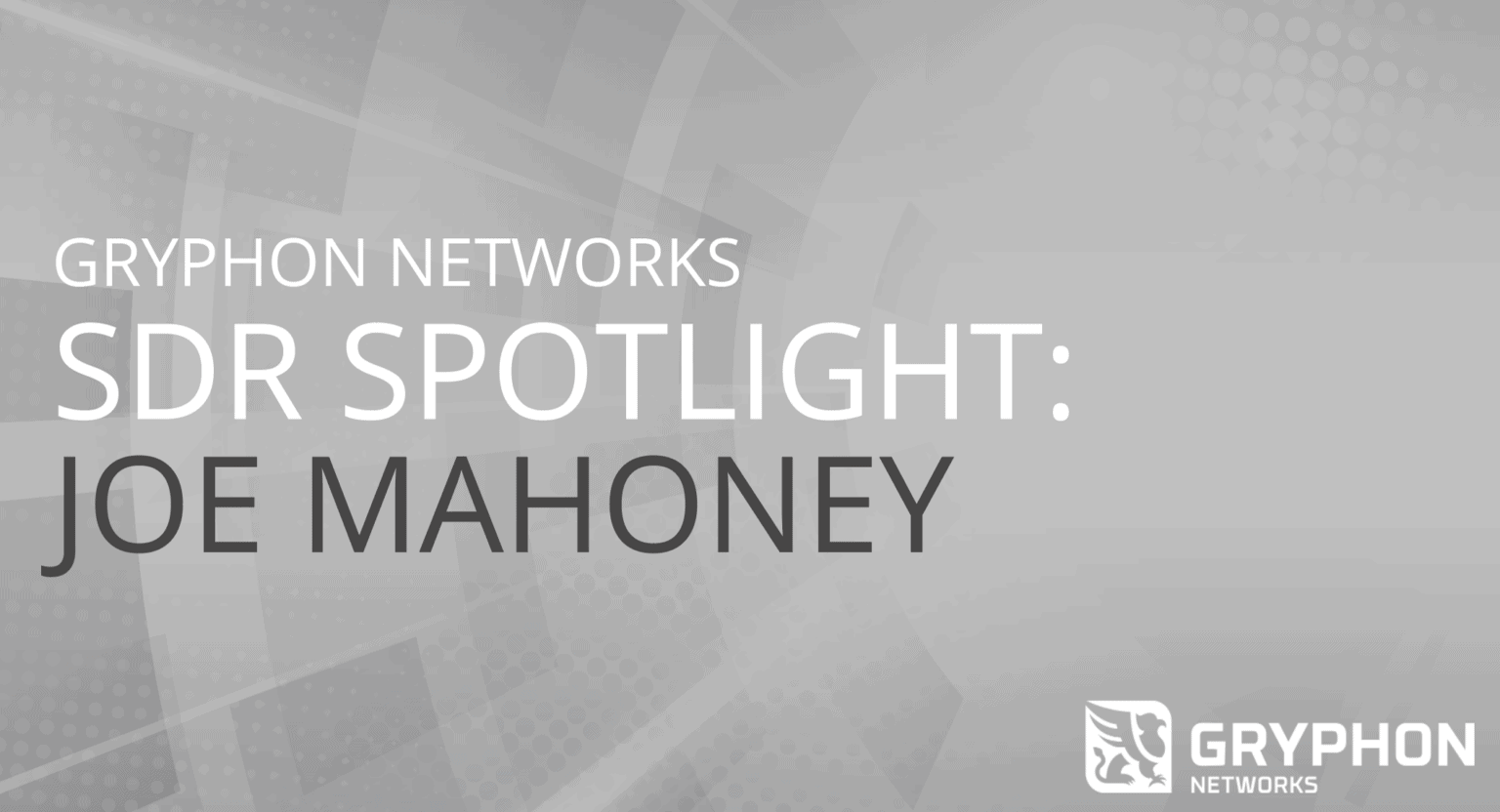 Joe Mahoney is a Sales Development Representative here at Gryphon Networks. In this interview, Joe shares a few insights into his outreach approach – including how he uses his sales acceleration playbook to warm up leads using strategic account-based sales (ABS) cadences.
Gryphon Networks: Can you tell us about the account-based cadence strategy that you've developed?
Joe Mahoney: I start by figuring out what's the best length for the cadence – how many touches I need to put on each contact in the cadence, and how many contacts I need. The cadence is specific to an account, geared toward enterprise organizations. My first approach is to find the relevant people to reach out to in each cross-functional group that's relevant to revenue (marketing, sales enablement, sales development, operations, AEs, C-level, sales leaders etc.). I break it down into four or five categories.
I like to cast a wide net to try to find the right people while also spreading as much awareness as I can. If I'm looking at things on G2 to see who's looking at our competitors, I immediately think, "Alright, they're looking at these technologies, why aren't we one that they're looking at?" The whole point is to cast a wide net, get on their radar, and from there work my way through the organization to get the right person.
Then, throughout the cadence, each group is going to be hit with X amount of touches. I try to tell a story to each group and tell them why our product would be valuable and help their day-to-day. As I go through the cadence, I'm strategically touching each group with different messaging. Each touch I add more value proposition statements and offer a new piece of content from Gryphon throughout the cadence.
The first thing I start with is an email with no pictures or videos – maybe a link or two – and it's short, sweet, and to the point. Then, I mix in a few calls and LinkedIn messaging to put a face to my name. I also will keep emailing; email two might have a video explainer of my first message. The third email I might attach a case study and another video talking about another value our product delivers. As I go through the cadence, I continue to tell that story.
I also look at the analytics; who's opening my emails, who's clicking the video and watching who's responding to narrow down the right cross-functional groups. I see what information I can get to help funnel these contacts down the cadence and warm up my calls. I make the conversation more effective because when I finally speak with them, they have a sense of what we do and how we can help them. It makes building pipeline and building opportunities that much easier.
GN: You mentioned that you like to reach out to prospects via email before making calls. Can you tell me about this approach?
JM: First, I'll start with an email. I make sure it's formatted well and that it will be delivered to their inbox, not spam. If they're opening my emails a lot, I start to watch that contact and consider that a warmer lead.
The idea here is to get some type of interest first, so that when I'm calling, I'm not completely cold calling. Yes, I'm catching you out of the blue, but you know who I am. If I don't warm up a cold call with email first, I find that people don't want to take my call as much. If you know who I am and what we do, you're more receptive to give me a minute of your time.
When nurturing a lead by emailing first, I've made phone calls 18% more effective. If I cold call first, I convert 43% of those calls to meetings; but if I email then call, I convert 61% to meetings. It also helps make more meetings happen and convert to pipeline. In Q3, 55% of my scheduled meetings showed up, and 67% of those meetings converted to pipeline. In the first two months of Q4, while using my ABS cadence 90% of scheduled meetings have shown up, with 85% converting to pipeline. In just two months I've increased meeting attendance by 35% and converted 23% more meetings to pipeline opportunities.
GN: How do you personalize emails based on your cadence strategy?
JM: It depends on the stage of the cadence I'm in with a lead. If I'm on my first touch and casting that wide net, I'm sending something specific to someone's company and role. For decision makers in a company, I also tend to personalize emails more often.
In general, the warmer the lead, the more personal it gets. The more behavior I can track, the more work I'm putting into each contact. For instance, if I see a HubSpot report that says an account has been on our website viewing Amplify, our learning management system, I'm going to tailor my message around how we can help train and coach their sales team. For sales leaders, I'll talk about making their sales reps more effective against quota. For sales enablement, I'll mention how increasing the adoption of their enablement programs can help better demonstrate their ROI.
Not knowing who's evaluating these tools, but knowing the organization has some need for a solution like ours or our competitors, I'll start by casting a wide net to different cross-functional groups. I'll tailor the message to that specific team, and then talk about our product so that they can see the similarities with the competitor they're evaluating. Then I'll go on G2 and make a comparison with Gryphon and our competitors, and link that in my email. I've even seen cases where afterwards I get another alert showing their most recent evaluation – that includes Gryphon.
Even if I don't get a meeting on that first touch, Gryphon is now on their internal radar. As I work through the cadence I watch things like email opens, clicks, my LinkedIn profile views, and Gryphon website views. From there I start to see the right people, I see who's interested and where to focus. As I move them through the cadence, I'm warming up those leads and getting closer to the decision maker. My emails get more targeted and include more personalization while my phone conversations get better and I earn meetings and/or referrals.
When considering your business outlook for 2023, have you accounted for the laundry list of ever-changing marketing compliance regulations that your sales organization must follow to avoid costly fines and…
As organizations are growing their tech stacks to assist their remote and hybrid teams through the sales process, a conversation intelligence (CI) tool can offer insights into prospect and customer…
AI-powered, real-time conversation intelligence platform evaluated on offering, strategy and market presence BOSTON, Oct. 4, 2022 — Gryphon.ai, the leading platform for AI-powered sales intelligence and real-time guided coaching, today…