Simple and Intuitive Post-Call Analysis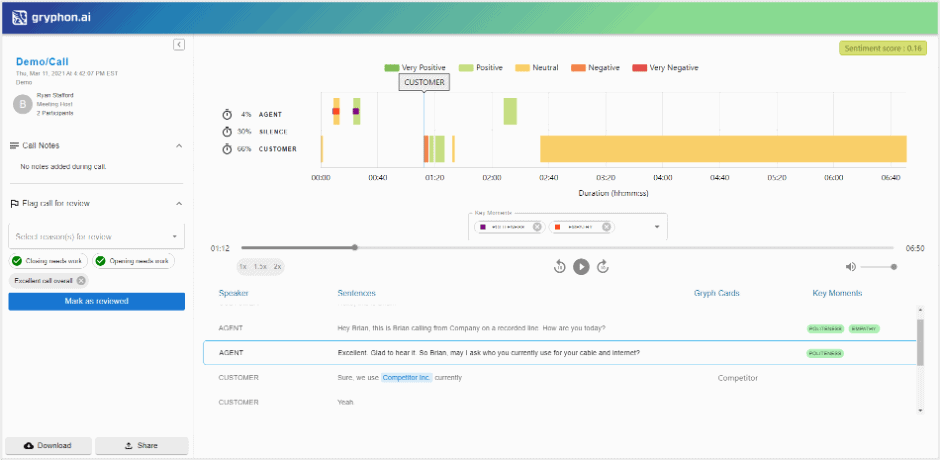 gryphon.ai's new and improved post-call analysis player features smarter ways to flag, coach, and share sales call success.
Accelerate deal progression, personalize coaching, and optimize ongoing sales performance. gryphon.ai's new and improved Post-Call Analysis Player makes it easier than ever to zero-in relevant call details and take the appropriate next steps.
Some of the updates you and your team can now leverage include:
NEW design with enhanced performance: Easily review, flag, and share pertinent call details with our revamped layout featuring a left-hand tray with enhanced call data including Gryph call context, date/time, call outcome, and participant information.
NEW call flagging: Instantly distinguish the calls that require additional coaching, as well as top-performing calls that can be shared across your team. Leverage call flagging functionality that empowers reps and admins to immediately identify calls for review directly from the Post-Call Analysis Player.
NEW Gryph card indicators highlighted in the transcript: Quickly identify which Gryph cards appeared at specific moments throughout a conversation to drive improved post-call learning and more relevant coaching.
Call notes: Allow reps to capture additional details about the call to drive actionable next steps and deal progression.
Snippet share: Create snippets of key call moments and instantly share them with a click. The snippet creator is now the "Share" button located in the bottom left corner of the tray.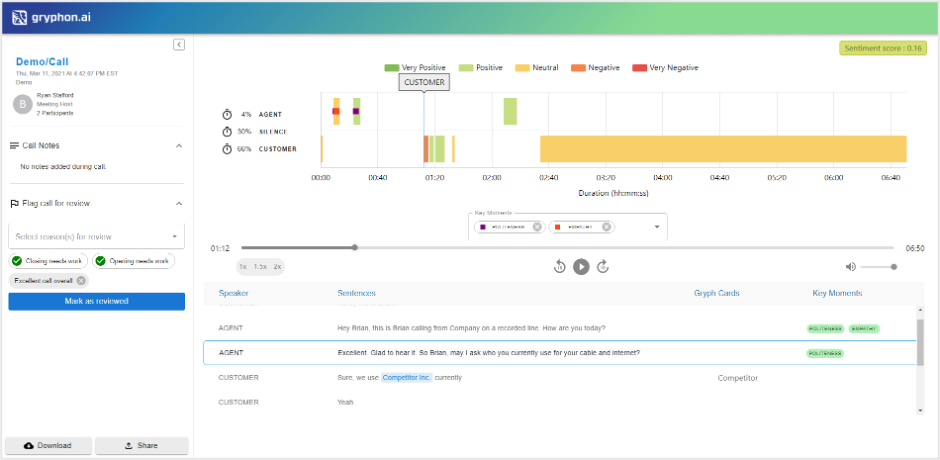 Coming Soon
Stay tuned for more exciting updates in early Q1 2022 when we will release even more functionality to help you maximize sales performance:
NEW conference call video playback: Review conversation highlights of Zoom conference calls with video playback that lets you view the video 1x, 1.5x, or 2x speed, as well as pause, jump forward/back 10 seconds, and adjust the volume directly from the player.
NEW conference call participant transcript: See the transcript breakdown by speaker – simply hover over the participant's initials to see the full name of the attendee.
NEW speaker-specific sentiment: Empower users to gauge speaker-specific sentiment throughout each moment of the conversation to pinpoint conversation highlights and lowlights and drive enhanced post-call coaching.
NEW AI-driven call cues and indicators: Access deeper call insights that provide indictors for how a call progressed including whether a rep was talking too fast or that a call participant was taking notes.
NEW transcript search: Quickly search for keywords and phrases within the call transcript with improved search functionality.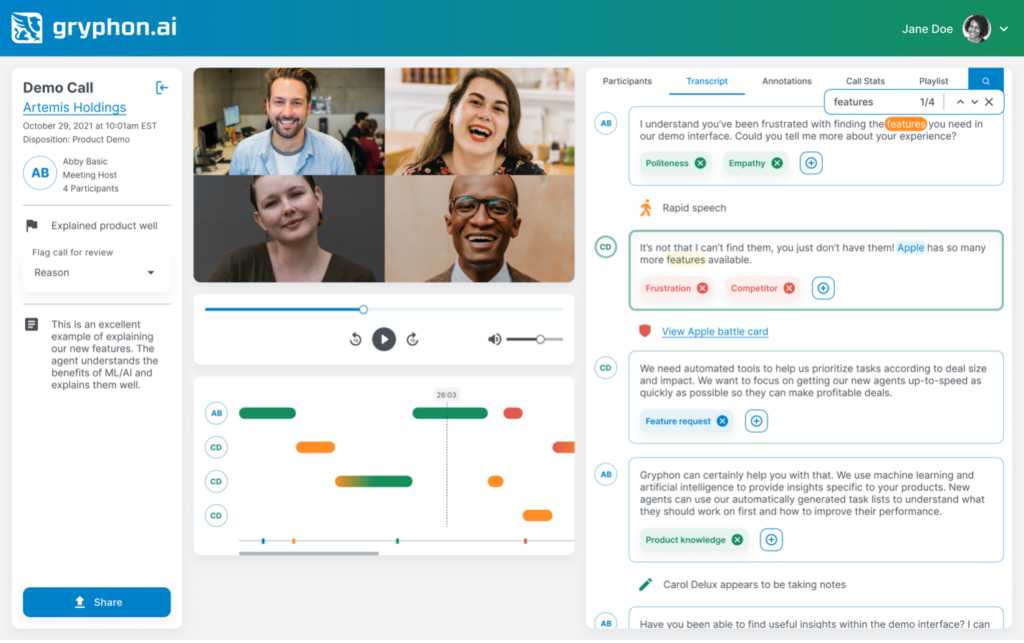 These are just a few things you can look forward to in early Q1 2022. Be sure to read January's newsletter where we'll be providing even more details about our AI-powered conversation intelligence platform.
Gryphon.ai Announces Gryph for Collections for AI-powered Collections Compliance Gryphon.ai protects enterprises against compliance risks for debt collection BOSTON, June 6, 2023 – Gryphon.ai, the leader in compliance and AI-powered…
TCPA and DNC Compliance: Buy a Solution or Build Your Own? View the full infographic here In today's vendor-centric market grounded in innovative thinking and development, when an organization needs…
Is your business legally calling consumers in these states? View the full state-by-state map here While navigating shifting market conditions in 2023, most organizations cannot afford TCPA or…