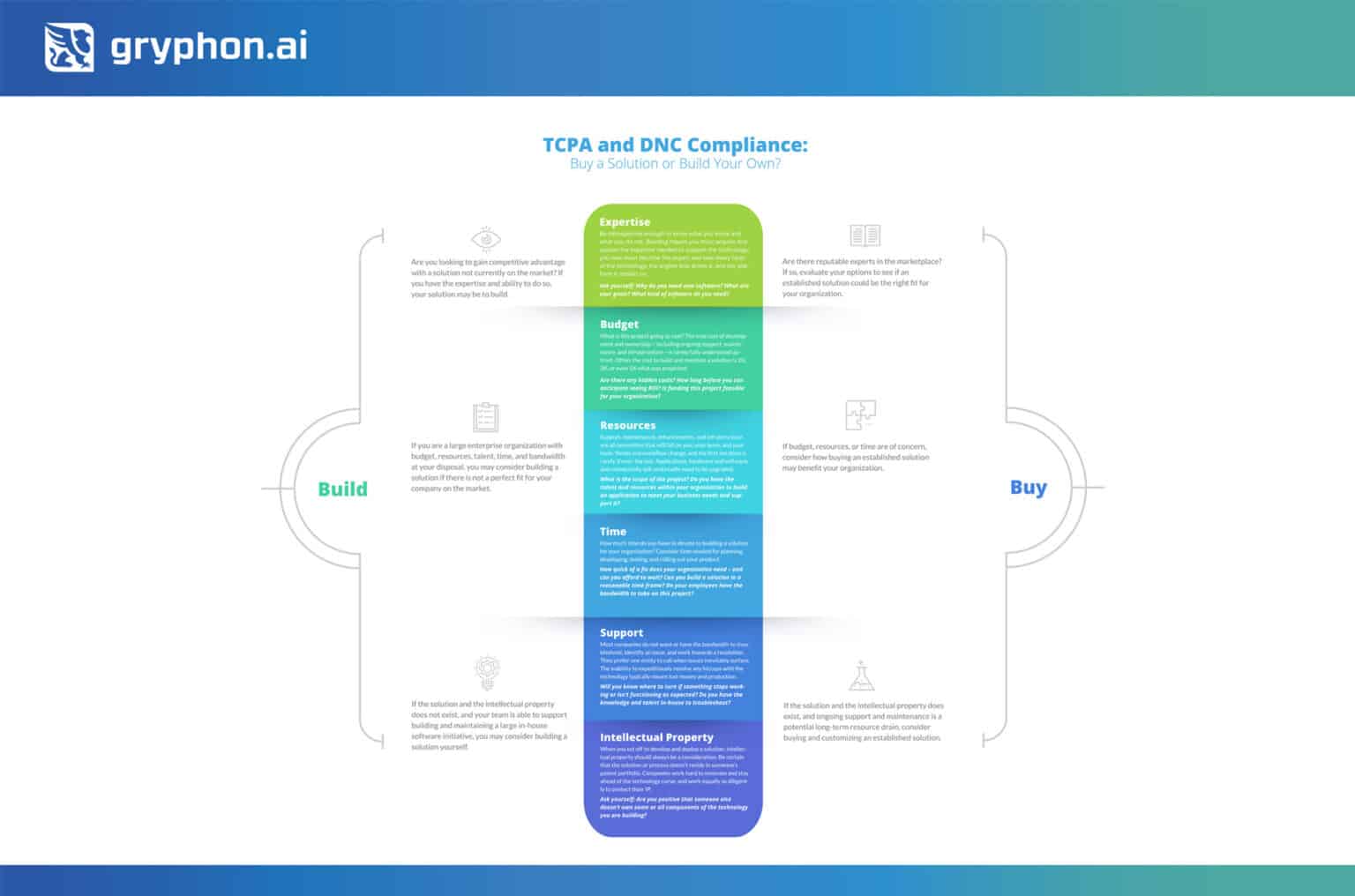 TCPA and DNC Compliance: Buy a Solution or Build Your Own?

View the full infographic here
In today's vendor-centric market grounded in innovative thinking and development, when an organization needs software to solve a problem or streamline business operations there are usually multiple, qualified service providers with potential solutions.
However, most big businesses have the money, talent, and resources to solve vast problems, and often consider blazing their own trails without reliance on outside entities. This creates a common conundrum for businesses today, especially in the enterprise world: "Should we build, or should we buy?"
With 20 years in the enterprise software as a Service (SaaS) space serving some of the most recognizable brands, where big budgets and large pools of resources are the norm, we've seen our fair share of companies elect to build rather than buy.
What we've also witnessed is the graveyard of failed projects, wasted time, many millions of dollars burned and CEOs, CTOs, and CFOs scratching their heads and asking themselves, "What now?"
So, should you build, or should you buy? This infographic explores six considerations when contemplating to build or to buy a software solution for your organization.
Gryphon.ai meets real-time compliance needs for enterprise customers on NICE's award-winning cloud–native CXone platform BOSTON, Wednesday, August 2, 2023 — Gryphon.ai today announced its Gryph automated compliance and collections solution…
Senior appointments align with Gryphon.ai's mission to drive customer success on behalf of enterprise customers BOSTON – June 21, 2023 – Gryphon.ai, the leader in compliance and AI-powered conversation intelligence,…
The Newest Regulatory Changes in State TCPA and DNC Legislation In Maryland, Governor Moore signed into law sweeping amendments to the state's existing telemarketing law that will greatly expand industry obligations when calling or…