Mitigate the risk of DNC and TCPA non-compliance
Ensure you stay on the right side of the laws with industry-leading DNC and TCPA compliance solutions that deliver 100% warranted protection for 100% peace of mind.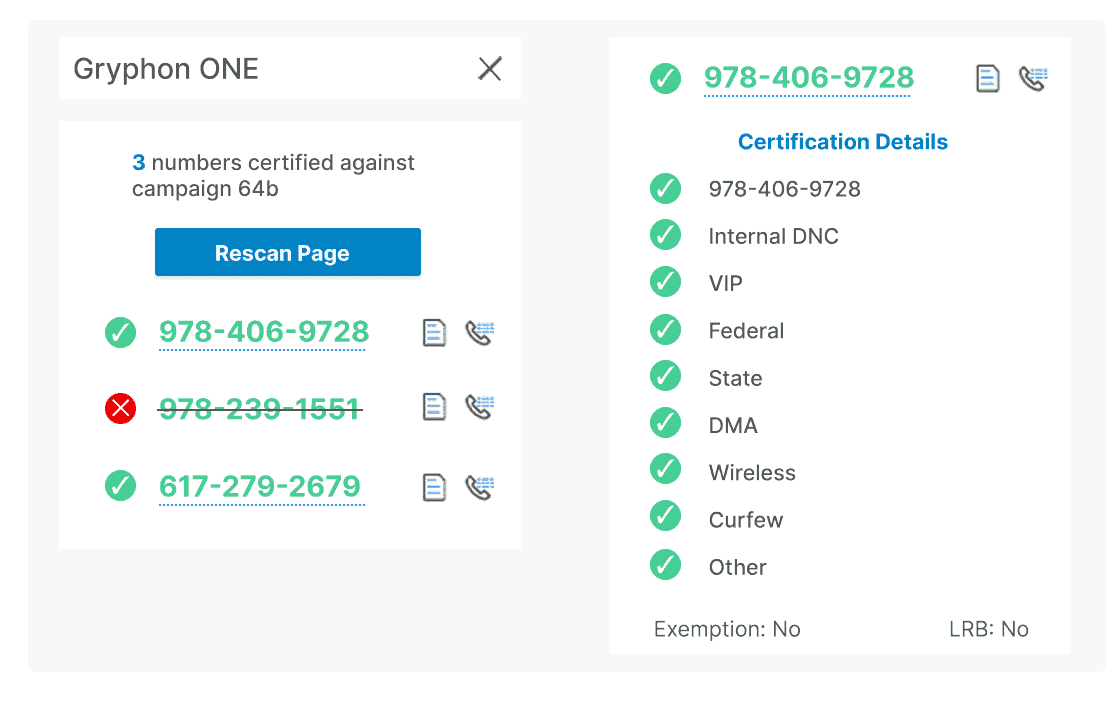 With Gryphon, you can:
Avoid costly compliance mistakes arising from human error with automated call blocking at the point-of-dial
Safeguard all sales interactions and prevent violations regardless of device or access method
Tailor compliance to your organization with custom controls that improve your team's ability to sell
Establish indisputable audit trails for complete peace-of-mind
Limit the exposure of sensitive customer information
Trusted by top industry innovators
1.7B data transactions per month with 0 DNC and TCPA violations
Ensures automatic adherence to regulatory requirements, internal business rules and preferences
Safeguards all rep interactions and prevents violations regardless of location or device
Full call recording available for complete audit trail and call coaching
Proprietary Compliance Engine
Stop wasting time and money trying to figure out the ever-changing compliance landscape on your own. Our proprietary compliance engine evaluates every phone number against TCPA, state, federal, and other Do-Not-Call lists so you don't have to worry about it. Now, get back to doing what you do best.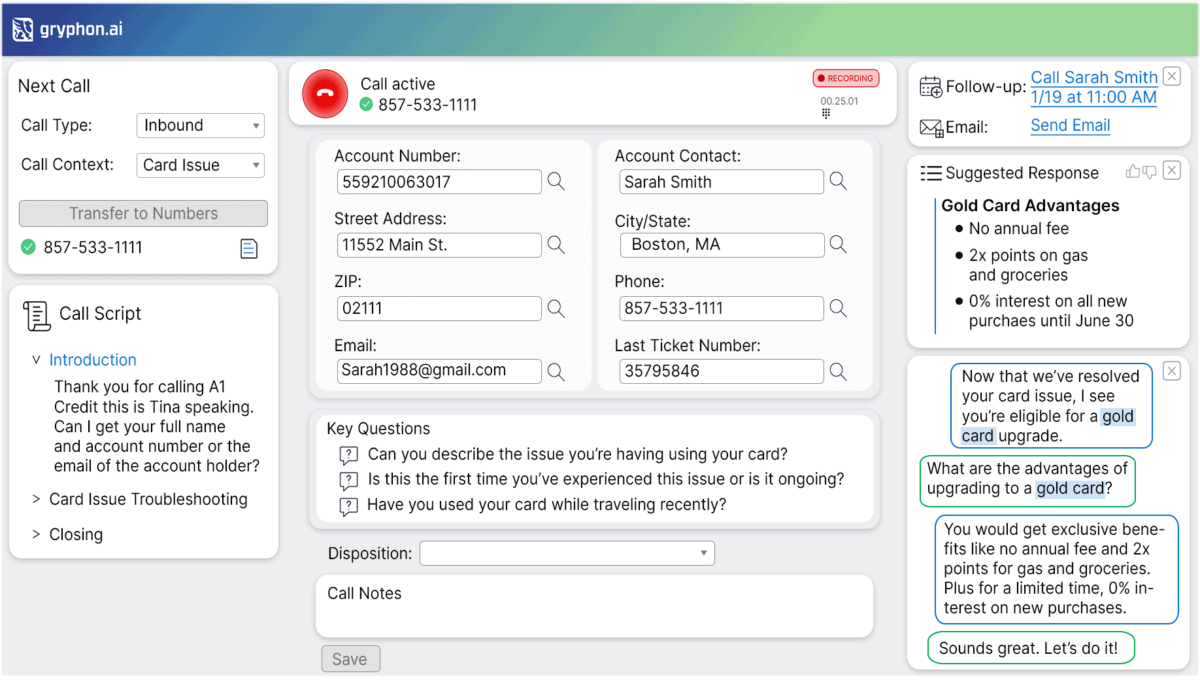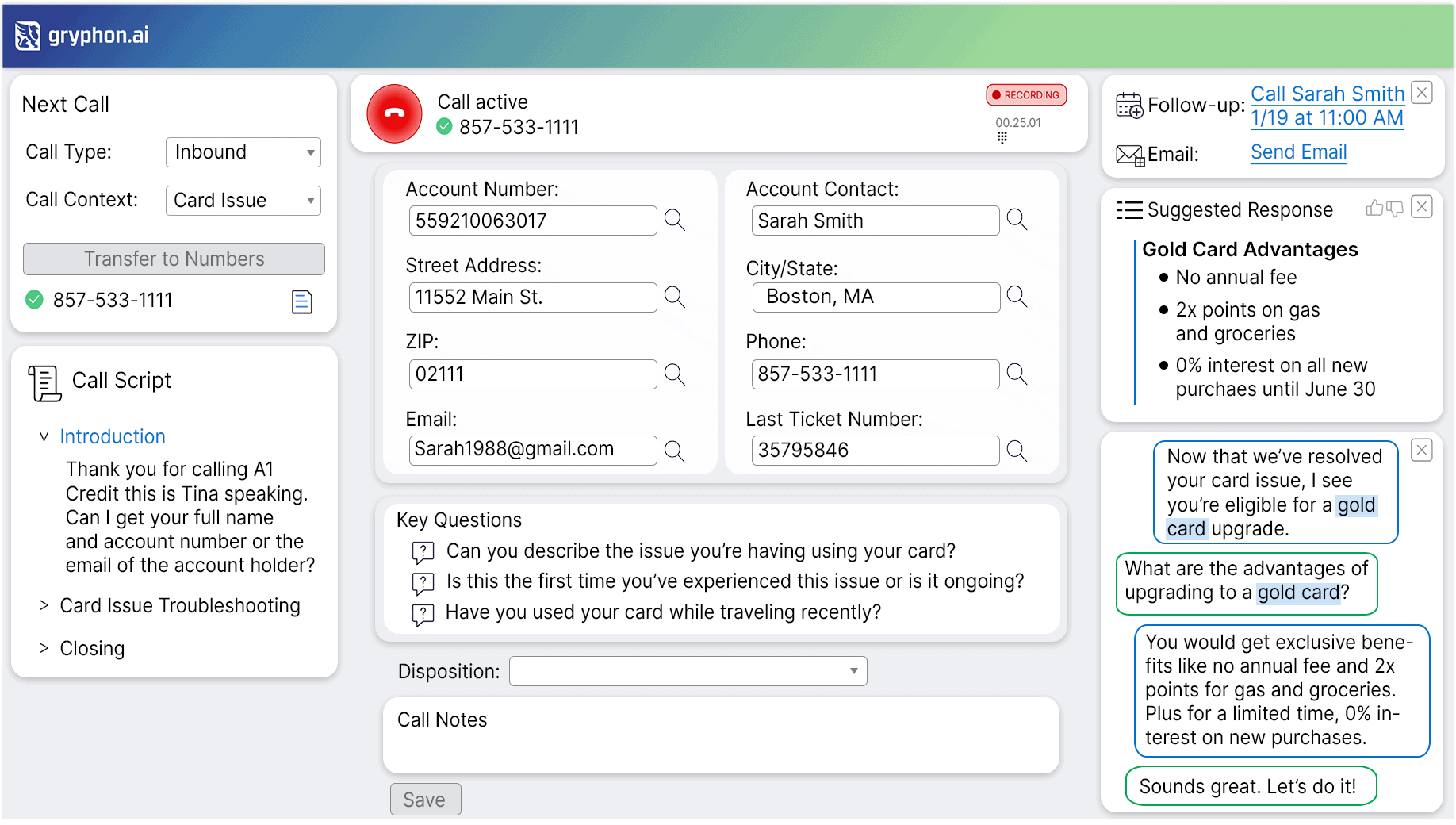 Real-Time Outbound Campaign Tracking
Create indisputable audit trails with real-time call recording that provides key reporting and real-time outbound campaign tracking. Finally, the solution to keep you compliant with the backup information to prove it.

"Gryphon Click to Dial is a GAME CHANGER!"
"Gryphon DialView has changed the volume of our phone prospecting! it allows us to create a quick, easy, phone list with only leads that have a good number! No more scrubbing out the DNC! Not only that the disposition through Gryphon will also disposition the sales lead! This is such a time saver!"
Victoria W
G2 Review

"Gryphon Review"
"It's a great tool to track your sales team's phone production. While following the ethical standards of our profession. We do not want to call people on the do not call list. This tool enables us to quickly make calls to the people who are really wanting our services."
William M
G2 Review

"Gryphon services saves me money!"
"I like that I don't have to worry about calling numbers or do not call lists when making cold calls! This service keeps me from making calls to people who don't want to be contacts which saves me fines!"
Enterprise Consultant
G2 Review
See our real-time compliance platform in action