Proactively eliminate collections compliance risk
A steady upsurge in regulations around first- and third-party debt collection at a federal, state, and jurisdictional level has prompted organizations to critically analyze how they are engaging with consumers to collect debts.
Rules defined under the FDCPA, CFPB, and TCPA have prompted increased scrutiny around when consumers can be called, how frequently, and on what type of device. Gryph for Collections is the only fully integrated and automated TCPA, CFPB and FDCPA compliance solution on the market to pre-emptively eliminate risk.
Leverage real-time reliability
Gryphon's wholly owned Tier 1 telephony gets into the path of the call to automatically block non-compliant calls at the point-of-dial.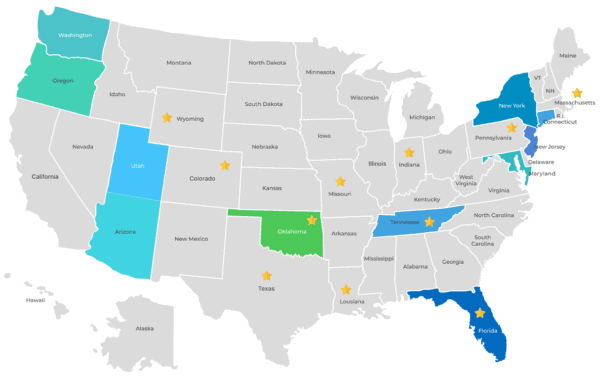 Collections Compliance
Enable collections compliance across all business units
The collections industry often struggles to keep up with the rules of engagement and ambiguity around the regulations for collections compliance across both direct and third-party resource pools.
Companies predominantly implement custom compliance logic inside their dialing platforms and attempt to proliferate that logic across multiple internally and externally managed systems. This is cost prohibitive and does not necessarily equate to full compliance under the law.
Gryph for Collections is a comprehensive real-time screening and blocking solution that gives first- and third-party consumer debt collections organizations the power to comply with the vast, ever-changing regulatory landscape.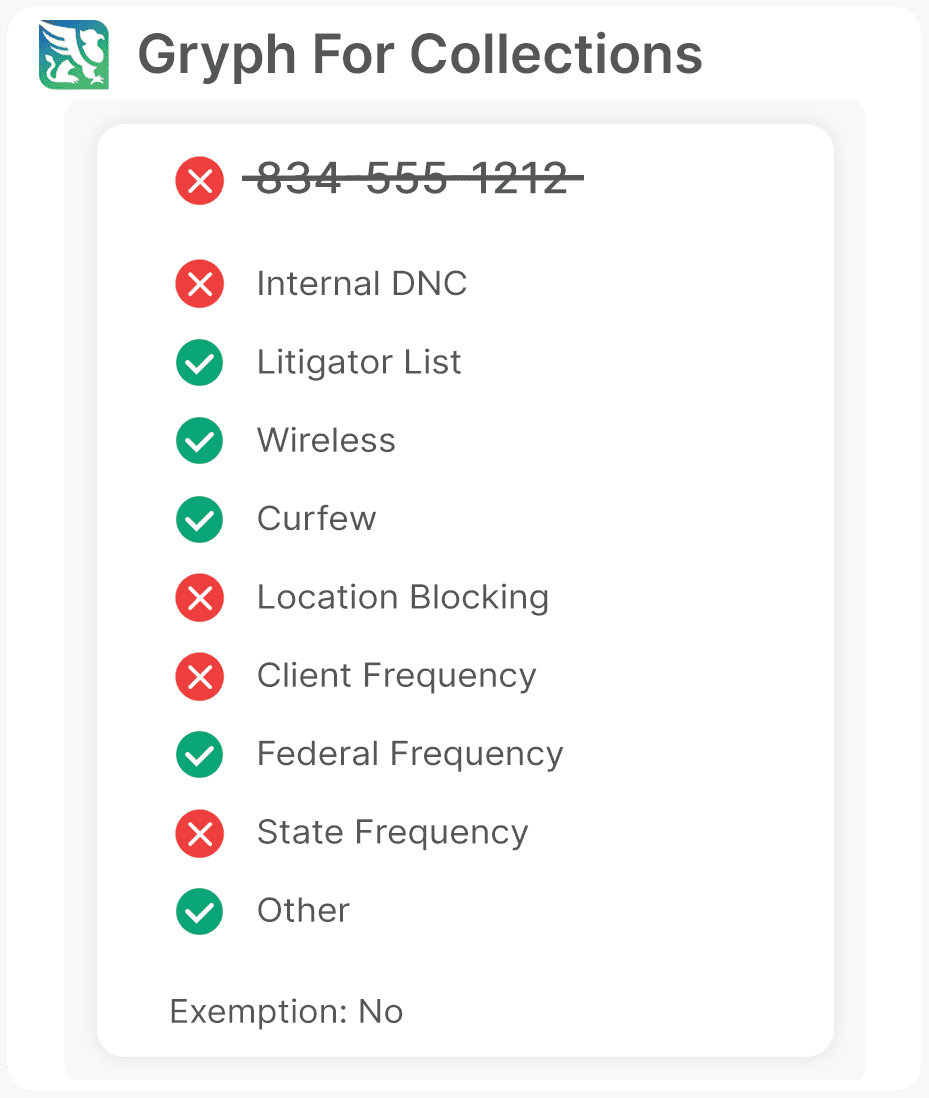 Avoid devastating fines and reputational risk
Eliminating costly mistakes made from inexperience and human error requires proactive prevention.
Gryph for Collections provides automated blocking of outbound campaigns at the point of communication to shield enterprises from devastating fines and protracted litigation.
Additional logic is also available, such as the use of postal code vs. area code to determine residency, location blocking, and other custom client-specific business rules to address organization-specific standards and requirements.
Facilitate continuity of internal standards across the entire organization
Ensuring adherence to internal preferences across first- and third-party resources is critical to compliant communications.
Our platform allows organizations to tailor collections outreach to their unique requirements by aligning internal collections-specific exemptions and opt-outs with their proprietary collections processes and outreach standards.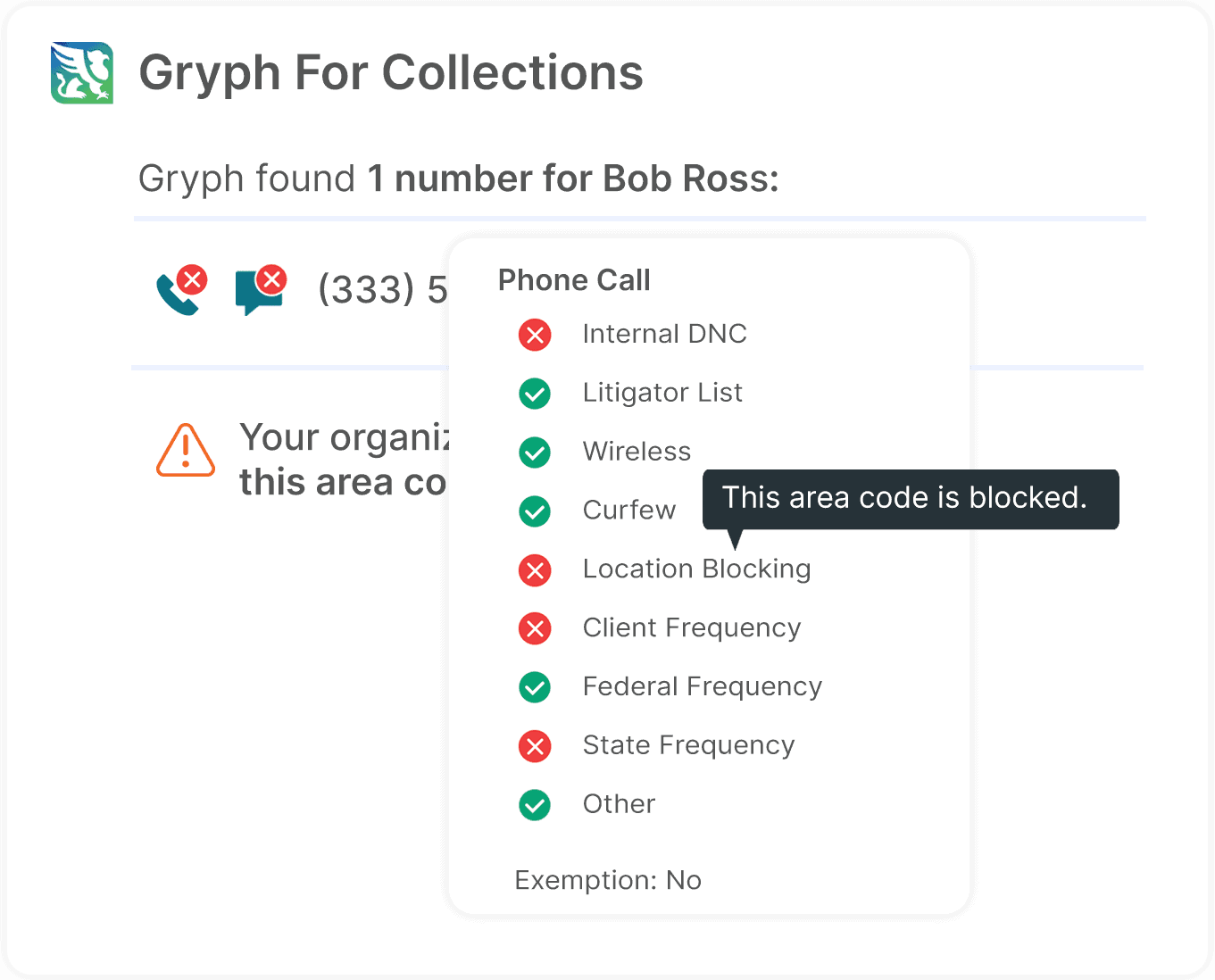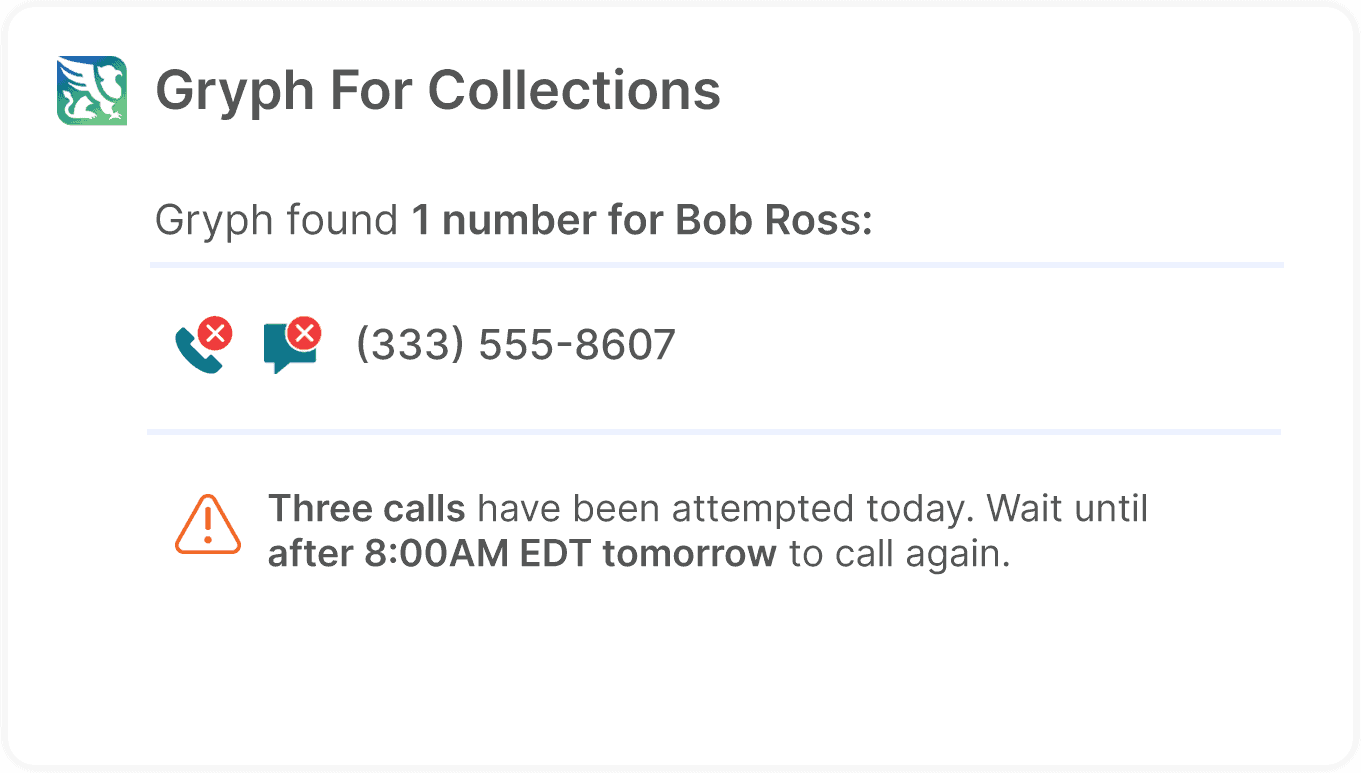 Avoid excessive calling attempts with real-time frequency functionality
Respecting consumer rights is crucial for enabling ethical debt collection practices. Integrated frequency controls automatically cap daily outreach attempts, eliminating the risk of excessive calling by ensuring collections agents do not exceed legal thresholds for debt collection calls.
Additional client frequency controls allow organizations to set customer- and/or campaign-specific call attempt thresholds by day, rolling calling window, and landline vs. wireless number to align outreach with enterprise-specific collection protocols.
Create a fully auditable trail to prove compliance
Federal regulations require debt collectors to maintain evidence of compliance until three years after the last collection activity on a debt, or in the case of call recordings, the dates of the telephone calls.
Gryph for Collections includes comprehensive audit reporting for all debt collection activities.
Our fully customizable reports provide demonstrable evidence of all collections outreach, empowering organizations with verifiable proof of collections compliance.