Let's create relationships that last a lifetime
The foundation of any good relationship is open and honest communication, active listening, and nurturing support. Relationships with your customers are no different. Help your agents realize deeper customer connections with solutions that enable seamless brand experiences and exceptional support.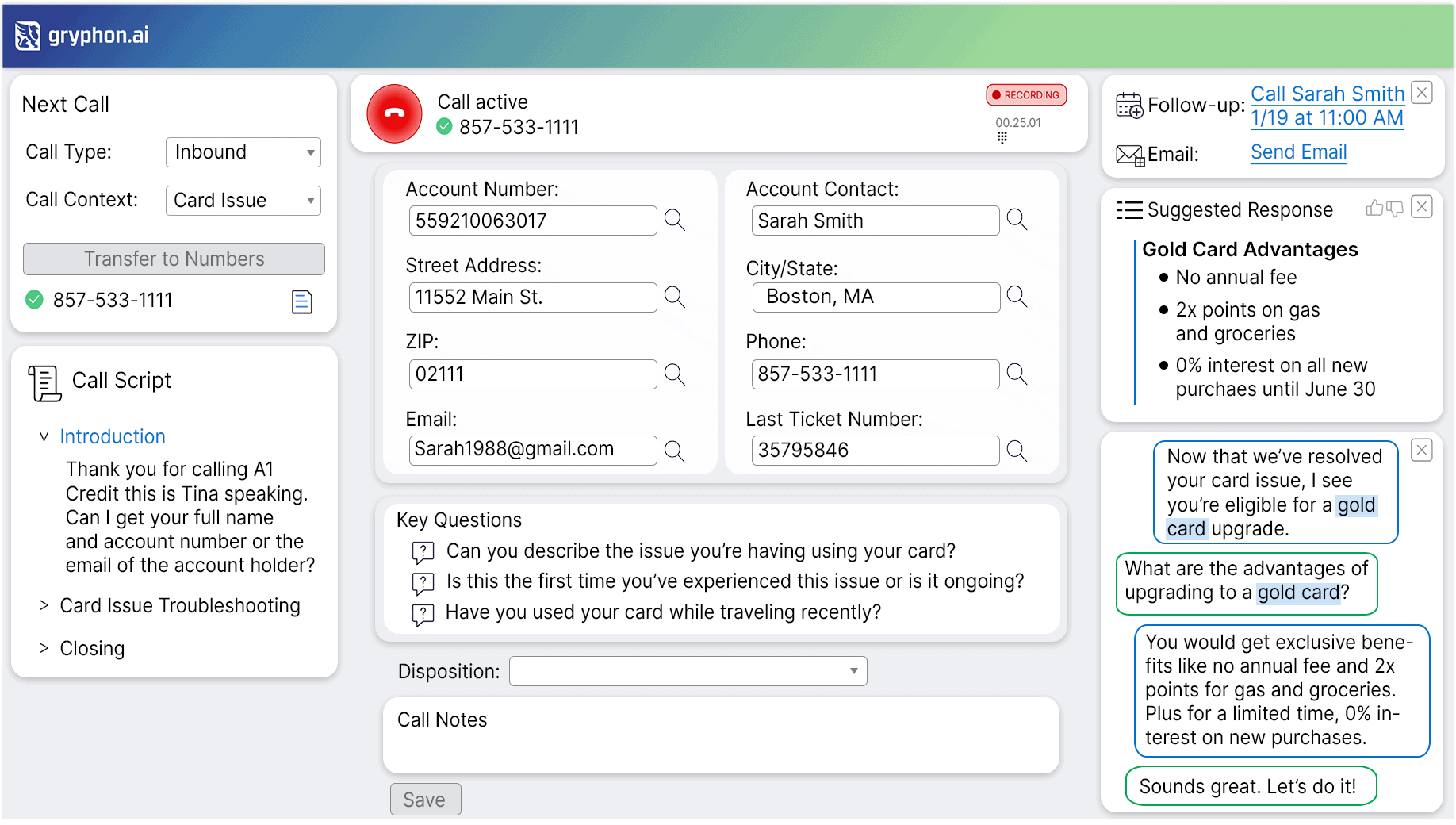 Gryph for CX
Don't let bad experiences happen to good customers
As a customer, you know how frustrating it is to have to make a call to get help with a problem, access product support, or make an upgrade. What's worse is waiting on hold for 20 to 30 minutes only to get a completely inexperienced agent once you do finally get ahold of a live agent. Don't let that happen to your customers.
Gryph for CX accelerates call handle times with contextual talk tracks proven to address a customer's specific needs quickly and efficiently.
In addition, real-time, AI-powered talking points, FAQs, and knowledge base materials help agents answer questions and resolve customer inquiries/issues in-the-moment for maximized first contact resolution rates. Now on to the next customer…who really hasn't been waiting that long.
AI-Driven Sentiment
Get proactive
Let's face it, we are all influenced by our emotions to some degree. When it comes to your experience with a brand or product, how you feel about it can be the difference between becoming a lifelong customer or bolting for the nearest exit (and possibly sharing your frustration on social media and review sites).
Don't let hard feelings ruin your customer relationships.
AI-driven sentiment quickly identifies the good, the bad, and the ugly. Leverage conversations with negative sentiment to proactively mitigate customer frustration and dissatisfaction before churn becomes a reality. Alternately, conversations with a positive sentiment are ideal for harvesting best practices and replicating them across the entire team. And when the customer is happy, you're happy.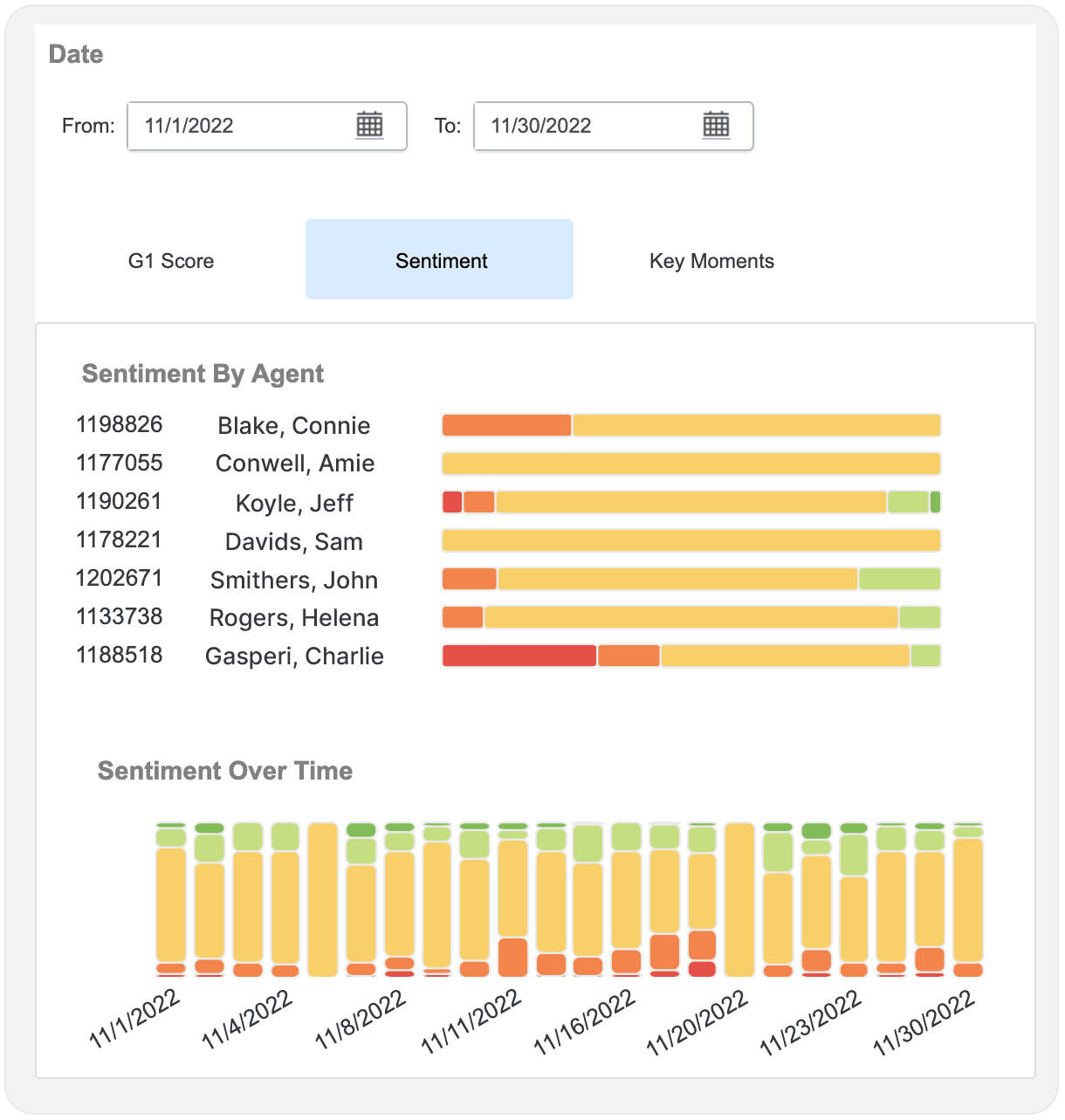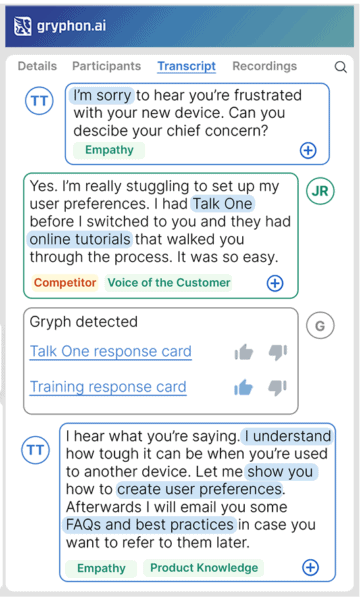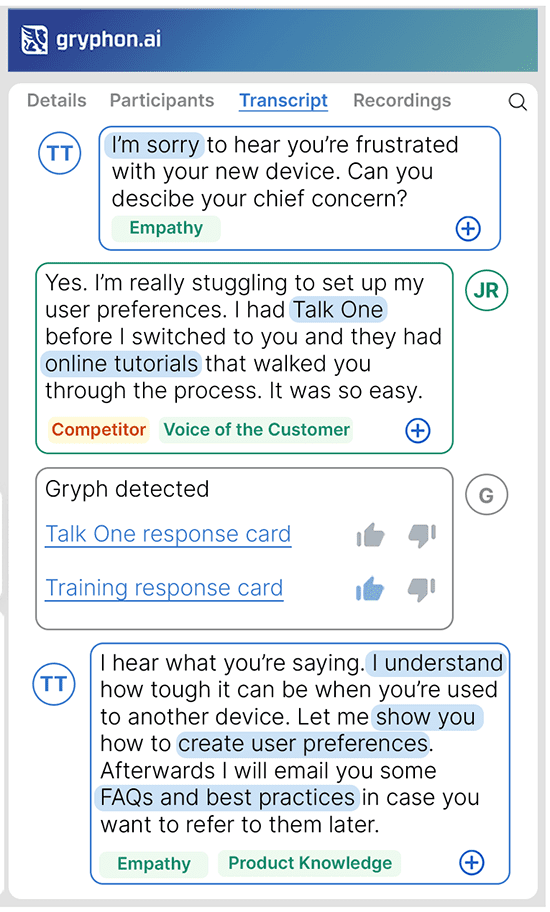 Voice of the Customer
Show 'em you're listening
Sometimes you just want to be heard. There's nothing quite like that warm and fuzzy feeling you get when you know your opinion is not only welcomed, but highly valued.
Isn't it time you showed your customers just how obsessed you are with their satisfaction?
Post-call conversation intelligence delivers firsthand voice of the customer. Leverage that feedback to optimize the customer journey, deliver strategies that drive brand differentiation, and empower product and service teams with relevant recommendations for solution and service enhancements.
Call Quality Scores
Check your gut at the door
You know the drill. One supervisor to 30+ agents. There's hardly enough time in the day to manage everyone, let alone effectively analyze performance (especially that agent who's not having their greatest day).
So why not let us do the heavy lifting?
Gryphon's proprietary G1 call quality score provides the most accurate indicator of call performance using AI to critically analyze and score call quality based on your unique KPIs. Now you can see quickly see who's killing it and who needs a little more one-on-one coaching to be the best they can be. Facts versus fiction — a manager's best friend.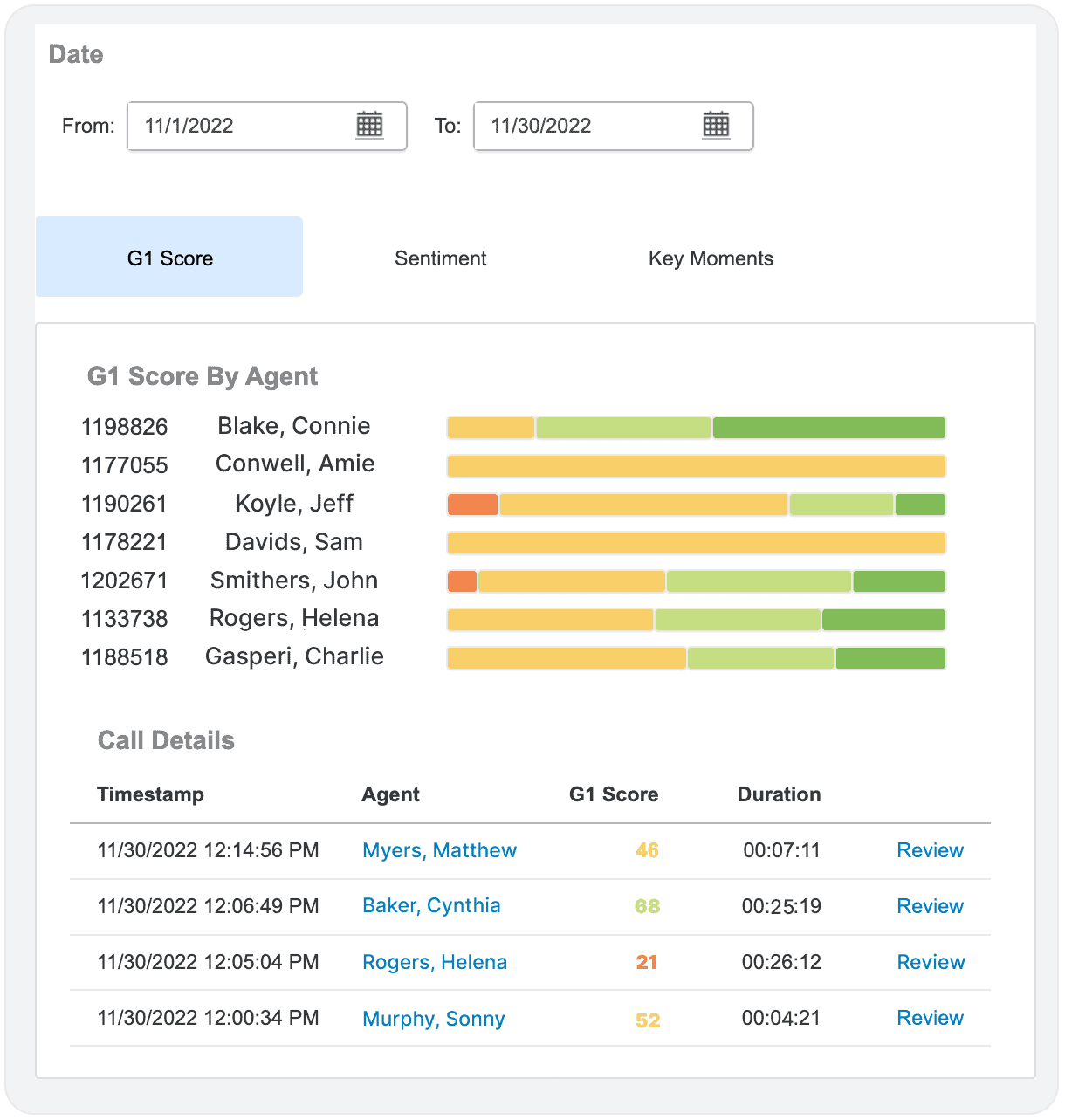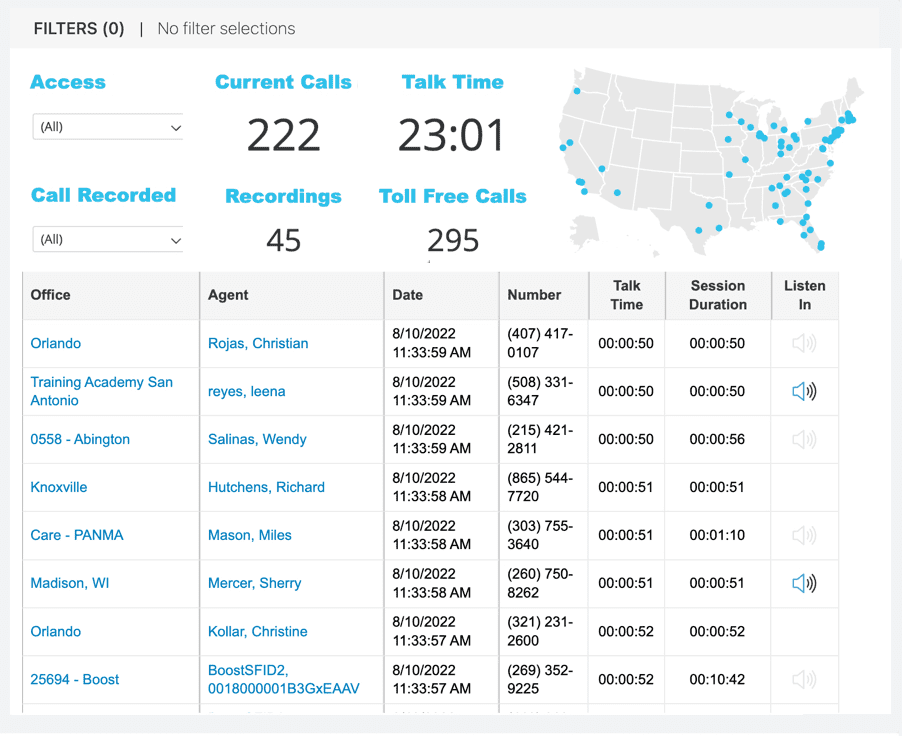 Live Call Listening
Swoop in and save their day
Sometimes conversations go sideways. And once the downward spiral begins, it feels impossible to course correct. Even for your best and brightest agents.
Never fear, Super Supervisor is here (that's you)!
Live call monitoring that lets you jump on calls in-progress to offer in-the-moment assistance and support when agents need it most. No cape required.