Susan Cook: Insights From a CEO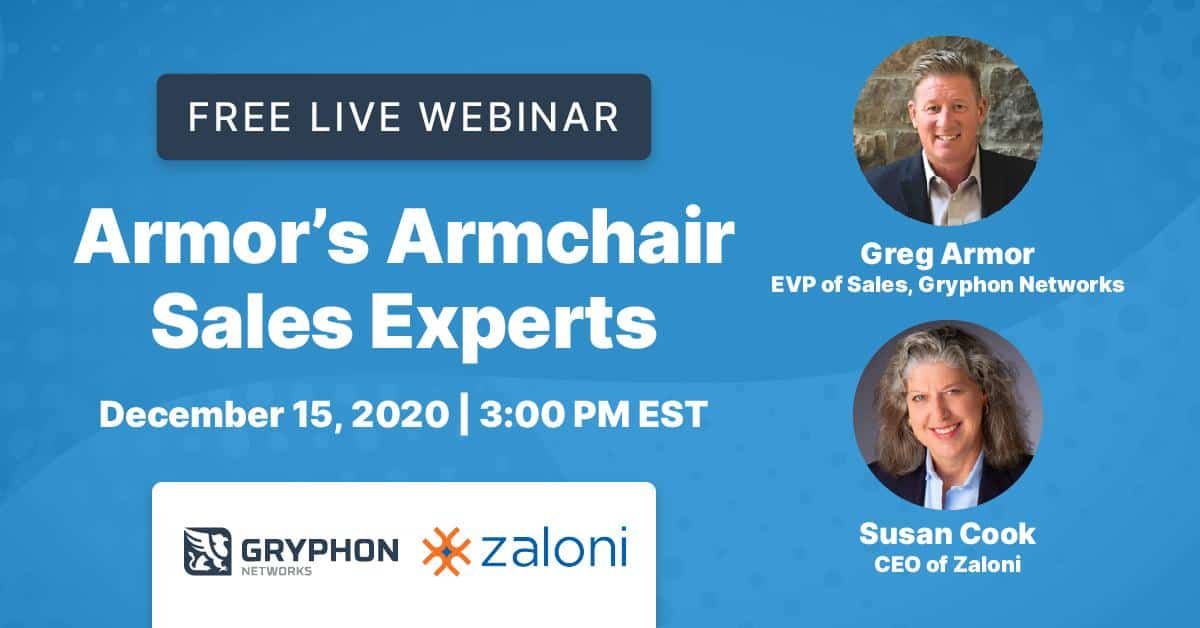 Susan Cook, CEO of data management company Zaloni, joined Gryphon's Greg Armor for a webinar and spoke about her passion for selling, what it takes to be a great mentor, and her experience as CEO.
Greg Armor: Can you tell us your transition from sales to CEO? Do you still spend a lot of time selling?
Susan Cook: Absolutely. I might shrivel up and die if I weren't selling every day – it's my favorite thing to do. Closing a deal never gets old. I love to sell, and I love learning a customer's business problems and trying to solve them. I think that's why I love it.
So, with the transition from selling to CEO, the selling part wasn't that hard of a transition. But taking my first CEO role in the year of a pandemic – that proved to be a bit challenging. Learning all aspects of the business has been fun, I won't say it hasn't been filled with anxiety and nerves, but the great news is that I'm learning every day.
The CEO is the loneliest job on earth. It's because you don't have a peer at the organization to get a cup of coffee with and talk through something. I have been fortunate enough in my career to have really good friends who have been CEOs or have worked for much larger companies. They have really good insight and advice for me. I think it is important to define those people who can help you work through problems. Use them and reach out to them!
GA: We previously interviewed Claire Carpenter who mentions you as a great mentor. What advice do you have for people looking to be mentors, and what should they bring to the table to be a successful mentor?
SC: I thought a lot about mentorship coming into this conversation and it's interesting – I've never once thought of myself as a mentor. It sounds kind of condescending, and I have never once thought that. All of these mentoring relationships are friendships that I have been beyond blessed to stumble into.
You take our friend Claire Carpenter, who I love and admire greatly; when I met her at IBM, I saw this smart, driven, wonderful person. I thought, if I can build a friendship with that person, and if somehow, I can help her live to her fullest potential in her life and her career, wouldn't that be a cool thing. By the way, I get more out of it than she does.
When people ask me what it takes to be a great mentor, I say that it takes the exact same things it does to be in a great friendship or relationship. You have to care about them to the extent that you not only give them constructive and positive feedback, but you also give them a nudge or a kick when they need that as well (which you would do for someone you truly care about). Being a great mentor is more so that you are a person who takes ownership and cares about the other person's success.
On November 22, 2023, the Federal Communications Commission (FCC) issued a proposed rule that will drastically impact the lead generation industry as it relates to sellers and digital marketers' ability…
As lines blur between personal and work phones with the growth of remote workforces, how can you ensure your sellers are in compliance with Do-Not-Call (DNC) and Telephone Consumer Protection…
Organizations have more to worry about than just outbound calling when it comes to remaining compliant. Under the Telephone Consumer Protection Act (TCPA), all marketing calls including SMS or text…