What is DNC scrubbing and how there is a better way to compliance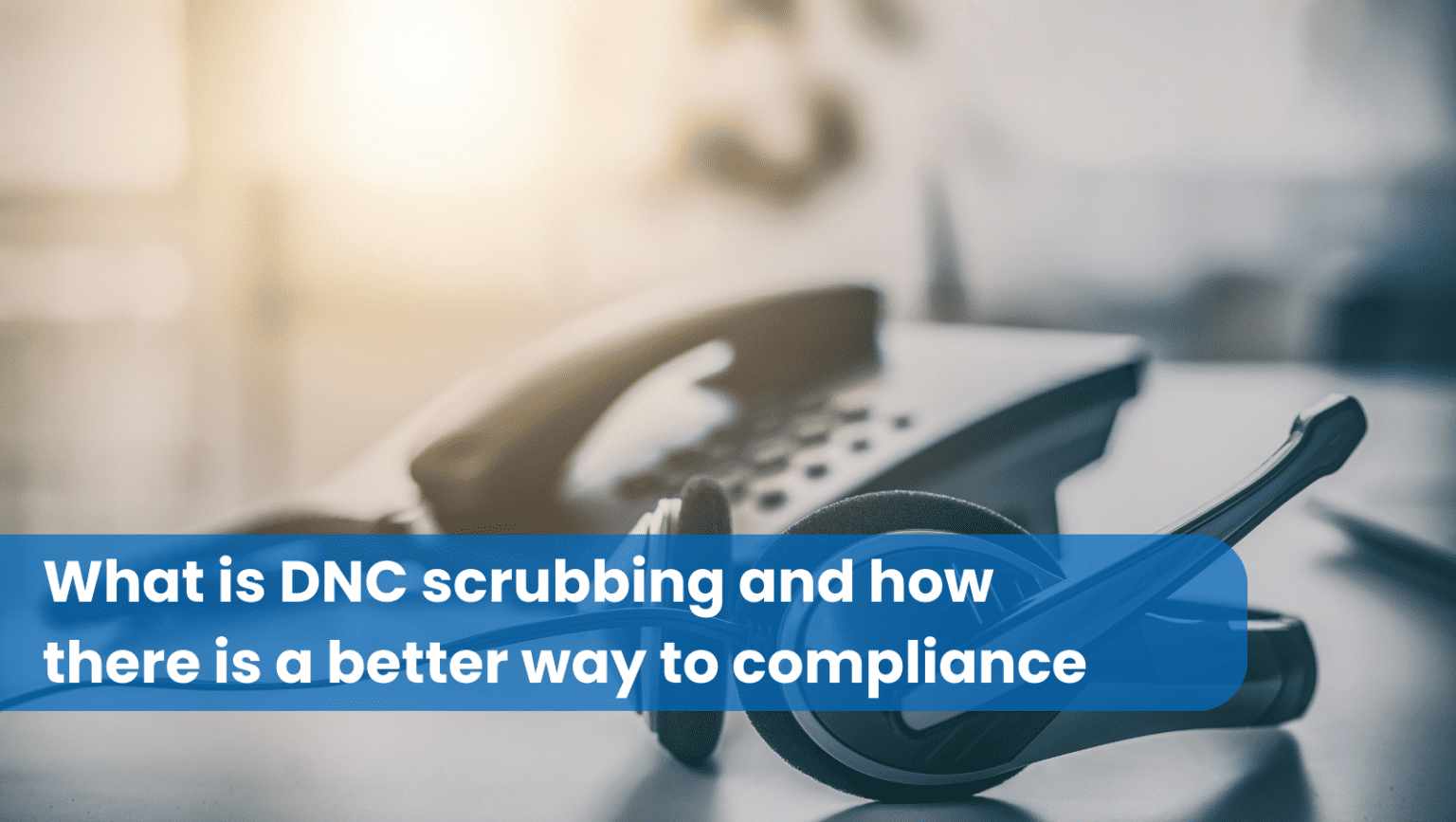 Many businesses rely on Do Not Call (DNC) scrubbing tools to comply with Federal, State, and other regulations as they face the challenge of maintaining marketing compliance. But, with the ever-changing regulatory landscape, it is getting harder and harder to keep up (and comply) with telemarketing laws and regulations.
However, relying solely on these DNC scrubber tools may not provide complete protection for your company and brand.
What is DNC scrubbing?
Do Not Call (DNC) scrubbing is the process of cleaning, removing or flagging phone numbers that are listed on the National Do Not Call Registry, State Do Not Call lists, wireless registries, and company-specific opt-out lists from your telemarketing campaigns. DNC scrubbing was originally developed to build calling lists based on specific demographic information and is a process that leverages data to suppress non-compliant phone numbers from your call lists – meaning your outbound team will not dial them.
Organizations need to maintain a strict compliance posture to adhere to these compliance regulations. Contacting consumers who have their phone number listed on the National Do Not Call Registry can result in hefty fines of up to $43,792 per call with specific State List fines of up to $25,000 per call. Organizations will often use a DNC scrubbing tool to help comply with federal and state telemarketing regulations, mitigating the risk of calling consumers who have opted out of receiving unsolicited calls. 
Downsides of using a DNC scrubber
Many organizations have deployed DNC scrubber tools and software to help maintain compliance for their call centers and other marketing operations. But while using a DNC scrubber can be beneficial, it also comes with certain risks and downsides.
Data stagnation
DNC scrubbers are not always perfect because they rely on databases and lists of numbers that are flagged as "Do Not Call." However, the nature of DNC data and DNC compliance is dynamic and constantly changing, making it hard to rely on a static list.
Do Not Call lists may not always be up-to-date or accurate and some phone numbers that should be on the DNC list may not be flagged, leading to potential compliance fines. Additionally, the moment a static list is processed, it becomes out of date.
Likewise, DNC scrubbers may mistakenly flag numbers that are not actually on the DNC list. This can lead to missed opportunities for contacting potential customers or clients.
Regulatory compliance complexities
While a DNC scrubber can protect your organization against DNC non-compliance, it does not cover other areas of telemarketing rules and regulations including compliance with the Telephone Consumer Protection Act (TCPA).
The landscape for regulatory compliance covers a wide range of rules outside of scrubbing phone numbers, including a number of time bound restrictions. Some of these rules include call curfew, frequency of communication, holiday bans, and states of emergency. These rules also vary by state and federal jurisdiction. Failure to comply with all relevant rules and regulations can result in significant fines and legal consequences. Many scrubbers are focused on flagging numbers on the DNC, not necessarily ensuring that all aspects of calling rules are met at the moment of marketing interaction.
Risk of human error
As with most technologies, human error can still occur. Errors can occur in data transfer or data processing. Gaps can also occur when there is staff turnover, vacations, or unexpected leave as the complexities of data processing can be significant. 
Unless your DNC scrubber has an automatic blocker to stop non-compliant interactions from any device, agents could still be able to dial a number on the Do Not Call list or a number restricted for other reasons. 
Manual processing time and resources
Implementing a DNC scrubber requires constant configuration changes to account for ever-changing rules, regular maintenance, and ongoing data processing/handling time. 
This means a large initial investment of time and resources, as well as ongoing monitoring and frequent audits to ensure the data scrubbing process functions accurately and seamlessly. 
Database limitations
The effectiveness of an automatic DNC scrubber relies on the accuracy and comprehensiveness of the underlying databases. If the database used by the scrubber is outdated or incomplete, it may result in non-compliance or missed opportunities. 
There are also hundreds of millions of records on various Do Not Call registries. Coupled with the size of calling lists being scrubbed, this could put a lot of stress on infrastructure and other systems if not scaled accordingly. 
Alternative contact methods
Different forms of communication like emails or text messages may come with different sets of regulatory laws than outbound calling, so it is important to protect your organization with an all-encompassing automated compliance solution. 
Marketing channels such as SMS/text messaging have been targeted and are under growing regulatory pressure and scrutiny, making it vital to be aware of restrictions across all platforms, not just outbound calling. 
Lack of audit trail
An audit trail is a detailed, chronological record of data that can be traced back to their source. If your organization calls a number on the Do Not Call List and does not have a visible audit trail of every call made and each time the data was scrubbed against the DNC, you can be subject to serious compliance violations and penalties. 
Without a proper audit trail, it becomes difficult to demonstrate that the scrubbing process was carried out correctly, leaving the organization vulnerable to compliance violations and potential legal actions.
Consumer debt collections
Consumer debt collections are subject to strict regulations at both the state and jurisdictional level. This legislation outlines how debt collectors can communicate with consumers, including limitations on when and how often they can call. 
If DNC scrubbers are not implemented correctly or if there is a lack of proper documentation, debt collectors may inadvertently violate these regulations, leading to legal consequences and potential financial penalties.
The better way to achieve compliance
An automated compliance solution can deliver a complete and robust way for your organization to avoid costly compliance fines and brand damage without the labor-intensive task of compliance monitoring. 
Gryph for Compliance helps organizations preemptively eliminate DNC and TCPA compliance risk across the entire organization and avoid millions in fines. Gryph for Compliance is the only real-time, automated solution that mitigates the risk of DNC and TCPA violation for all outbound communications. 
Not only does Gryph for Compliance protect against DNC and TCPA violations, the solution also drills down even further to cover call curfews, holidays, state of emergencies, and any other preferences your organization designates.
See Gryph for Compliance in action and create the perfect conversation with a personalized demo today.
Many businesses rely on Do Not Call (DNC) scrubbing tools to comply with Federal, State, and other regulations as they face the challenge of maintaining marketing compliance. But, with the…
In the fast-paced world of marketing compliance and consumer debt collection, staying up to date with the latest regulations and maintaining compliance is crucial for businesses. The ever-evolving regulatory landscape…
Gryphon.ai meets real-time compliance needs for enterprise customers on NICE's award-winning cloud–native CXone platform BOSTON, Wednesday, August 2, 2023 — Gryphon.ai today announced its Gryph automated compliance and collections solution…