What you need to know about TCPA and DNC Compliance as we look toward 2023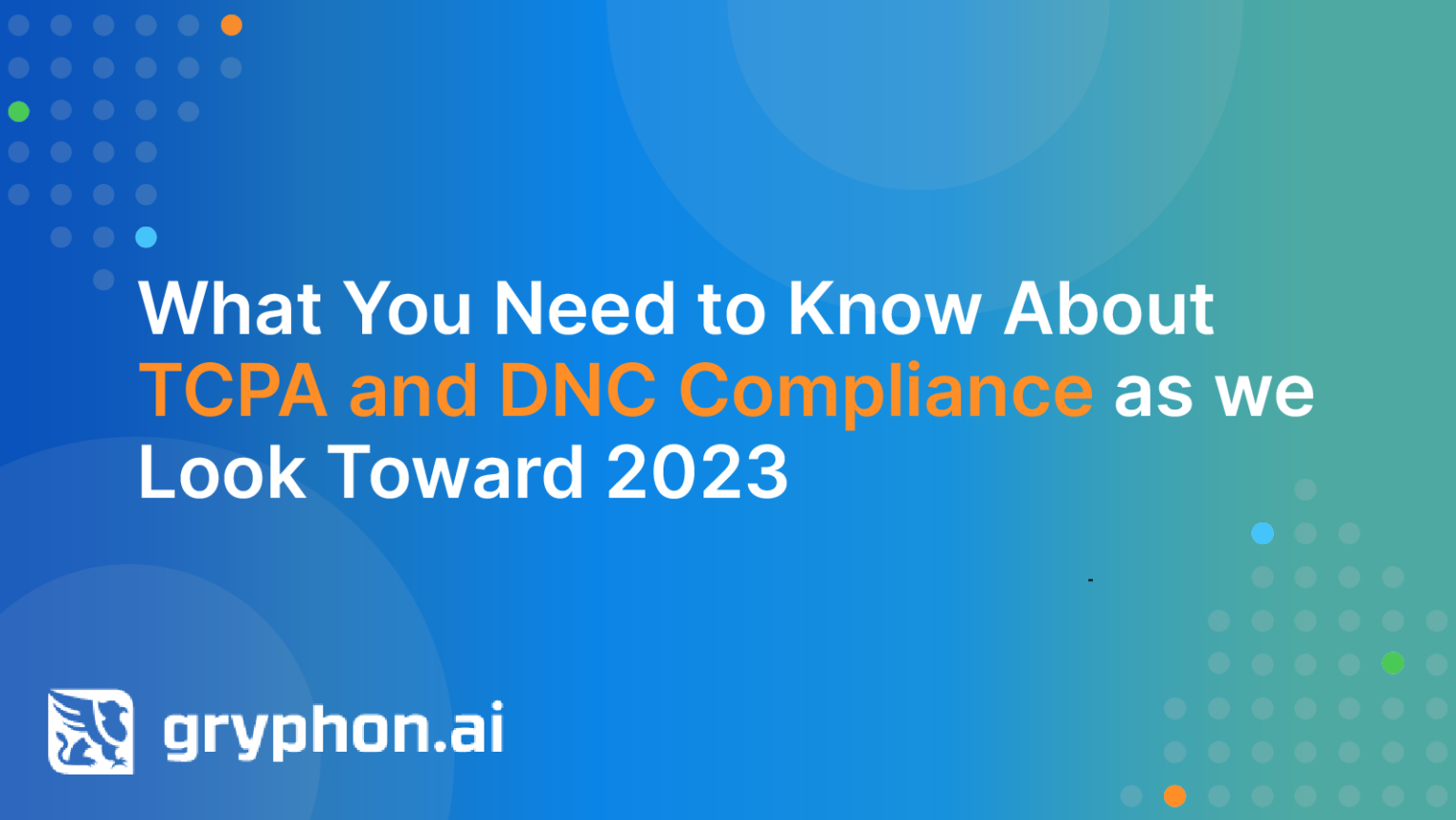 Faced with signs of economic uncertainty in the second half of the year, sales leaders across all industries are turning their focus to managing budgets and supporting revenue – but sales and marketing compliance liability should not be put on the backburner.
Risk is constantly expanding for organizations. Navigating shifting market conditions, most organizations cannot afford TCPA and/or DNC violation claims being filed nor the potential for resulting fines and penalties.
Below you will find information on some of the latest changes and proposed changes at both the state and federal level as it pertains to sales and marketing compliance that may be beneficial to your organization to manage risk for the remainder of 2022, and into 2023.
2022 State Law Updates
Oklahoma Telephone Solicitation Act of 2022 (OTSA)
Signed into law by Governor Stitt and going into effect on November 1, 2022, this new law, known as Oklahoma's Mini-TCPA, would remove established business relationship (EBR) and inquiry defenses from callers. It would also extend calling limitations to landlines, limiting outreach to merely three attempts every 24 hours.
The Oklahoma law would expand the definition of "auto-dialer" to include any system that uses automation in the selection or dialing of telephone numbers without the prior express written consent of the called party.
The Oklahoma Mini-TCPA also enacts a rebuttable presumption that "any call or text message to a phone number with an Oklahoma area code is made to an Oklahoma resident OR person physically present in the state at the time of receipt."
Other notable updates include:
An expansion of the auto-dialer definition to include dialers that use automation to determine the sequence in which numbers are called (human selection) or to dial numbers
Prohibition of telephonic sales calls that do not display the originating telephone number and name on the caller ID
Prohibition of sales calls that block caller ID or display a different phone number than the originating number
The application of automated call restrictions to landlines
A limitation on outbound sales calls after 8 pm local time
A limit on sales calls, even with consent, to three attempts per 24 hours
The Oklahoma mini-TCPA contains a private right of action for consumers with penalties ranging from $500 to $1,500 per call or text message. You can read more about the bill here.
Washington House Bill 1497
Effective June 2022, H.B. 1497 revises portions of Washington's existing telemarketing laws, adjusting the definition of "telephone solicitation" and the reach of a do-not-call request, imposing new obligations on callers requesting a donation or gift, and tightening requirements for callers to identify themselves.
Other notable changes enacted by the bill include:
Prohibiting telephone solicitors to place calls before 8 AM or after 8 PM at the called party's location.
Requiring nonprofits seeking donations to ask the called party whether they want to continue with the call, end the call, or be removed from the organization's call list
Requiring telephone solicitors to end a phone call within ten seconds if asked by the called party
Allowing individuals to request telephone solicitors to remove any contact information, not just phone numbers, from their call lists. Solicitors must then inform the called party that their contact information will be removed from their list for at least one year, end the call within ten seconds, and remove all other numbers associated with the called party from its call lists. Solicitors also may not sell or disclose an individual's contact information to a third party
Requiring telephone solicitations to identify themselves or the organization on whose behalf the solicitation is being made, as well as the purpose of the call, within thirty seconds of beginning a call.
This bill also enhances the reach of a do-not-call request. While the existing law prohibits telephone solicitors from calling a number with a do-not-call request for one year, the revised law will prohibit any calls to "any telephone number associated with that party" for one year. However, the statute does not explicitly define what it means for a telephone number to be "associated with" a person.
More information on this bill can be found here.
Effective May 2022, this bill modifies the definition of "telephone solicitation" found in Utah's Telephone and Facsimile Solicitation Act, expanding the definition to include "a telephone solicitation made to encourage a person to sell real or personal property to the solicitor." The bill also prohibits telephone solicitations made to cell phones without prior consent.
Other pending state legislation:
In Massachusetts, House Bill No. 469, which was introduced on June 30th, would amend three sections (15, 16, and 17) of Chapter 159 C of the MA General Laws – an Act clarifying the definition of "Telephone Solicitation."
The bill would redefine several definitions, including "consumer," "hands free mobile telephone," "robocall," "informational call," and "pre-existing business relationship." It would also enact a civil penalty of no less than $10,000 if a knowing violation occurs, and mandate that no actions may be brought against a solicitor more than five years after the recipient knew or should have known of the violation.
In Michigan, House Bill No. 6307,, known as Michigan's "Telephone Solicitation Act," would authorize a penalty of up to $25,000 for a violation. In the bill, an ATDS is referred to as an "ADAD" or "automatic dialing and announcing device," and is defined as "any device or system of devices that is used, whether alone or in conjunction with other equipment, for the purpose of automatically selecting or dialing telephone numbers."
Other key points of the bill include:
Recorded messages cannot be used to make telephone solicitations
At the beginning of a solicitation, the organization or person on whose behalf a call is initiated must state the telephone solicitor's first and last name, and the full name, address, and telephone number of the organization or person on whose behalf the call was initiated
Telephone solicitations can't be made outside the hours of 9:00 a.m. and 8:00 p.m. local time, without the authorization of a subscriber
Federal Law Update
Recently, the Robotex Scam Prevention Act was introduced to Congress to amend the TCPA and its definition of an ATDS. Other changes the Act would authorize include expanding the TCPA to cover text messages, providing a safe harbor for recycled number calls – but only for callers using the FCC's reassigned number database, and most notably, removing the phrase "using a random or sequential number generator" from the definition of ATDS.
Learn how you can mitigate the risk of non-compliance with myriad of state and federal sales and marketing laws without slowing down sales progression for Q3 and Q4 2022.
Many businesses rely on Do Not Call (DNC) scrubbing tools to comply with Federal, State, and other regulations as they face the challenge of maintaining marketing compliance. But, with the…
In the fast-paced world of marketing compliance and consumer debt collection, staying up to date with the latest regulations and maintaining compliance is crucial for businesses. The ever-evolving regulatory landscape…
Gryphon.ai meets real-time compliance needs for enterprise customers on NICE's award-winning cloud–native CXone platform BOSTON, Wednesday, August 2, 2023 — Gryphon.ai today announced its Gryph automated compliance and collections solution…