Trusted by
top industry innovators:










Accelerate onboarding by 35% to supercharge the productivity of new hires

Improve call outcomes with AI-infused guided coaching

Quickly identify areas of coaching need through sentiment score analysis

Coach reps to higher performance with data-driven analytics and insights
How Gryphon's

conversation intelligence software and AI-infused guided sales coaching

works
Record sales reps calls from any device
Reduce the call visibility gap by capturing and recording calls in real-time from any device, including mobile phones using our call monitoring software.
Enable reps and sales leaders to immediately gain insights in any work environment or location.

Instantly improve sales call outcomes with AI-powered guided sales coaching software to increase efficient engagement
Customized conversation cards are provided to reps for guided coaching during an active call.
Speech transcriptions trigger screen prompts with related content during an active call to guide reps to instant answers while they can still impact positive call outcomes.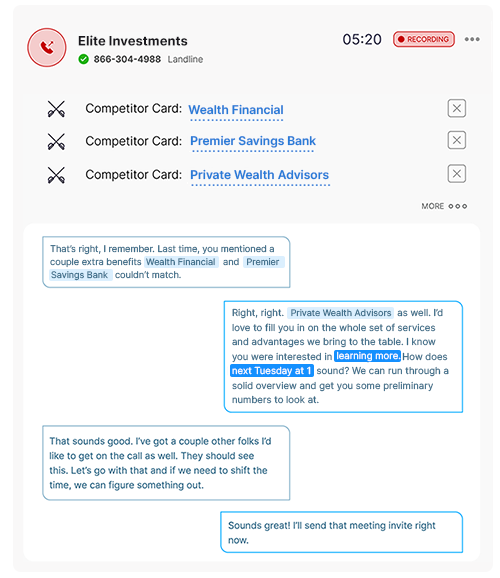 Save time by identifying key calls fast
Leverage post-call audio transcription with Al-trained sentiment score to quickly identify key coaching moments.
Empower reps to instantly review calls and self-evaluate to correct quickly and improve future call outcomes.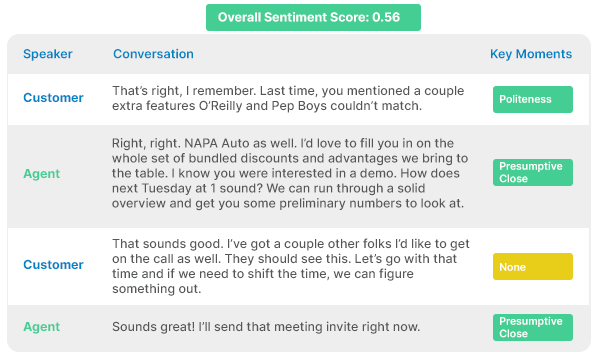 Our conversation intelligence software will track and identify keywords and key moments
Al-enabled sentiment and keyword identification drives data-driven insights about top performing conversations.
Leaders and reps can quickly see which behaviors drive success and replicate across enterprise teams.