Eliminate compliance threats
DNC, TCPA, and collections violations can cost enterprises millions in fines and wreak havoc with brand reputation. Gryphon ONE's automated solutions pre-emptively eliminate the threats that threaten your business.
Alleviate TCPA and DNC compliance risk
Protect your enterprise from a potentially devastating multi-million-dollar lawsuit. TCPA and DNC lawsuits have cost organizations more than $200M in federally mandated fines.
Gryph for Compliance evaluates every call against continuously evolving state and federal regulations and automatically blocks non-compliant interactions.
Our solution drills down even further to cover call curfews, holidays, state of emergencies, and any other preferences your organization designates.
Mitigate collections risk
Gryph for Collections helps enterprises avoid costly mistakes before they happen by pre-emptively eliminating not just TCPA threats, but also Consumer Financial Protection Bureau (CFPB), Fair Debt Collection Practices Act (FDCPA), state, and other risk factors that pertain specifically to debt collection. ​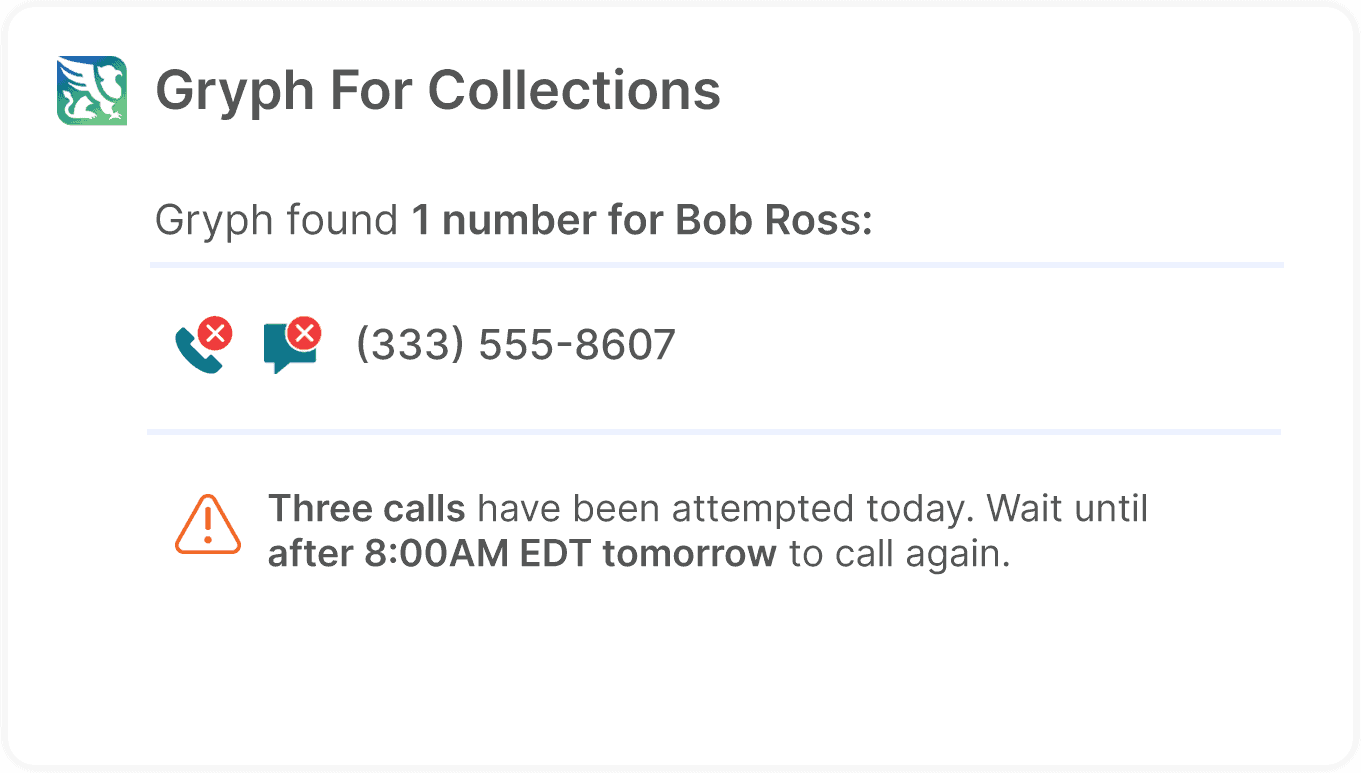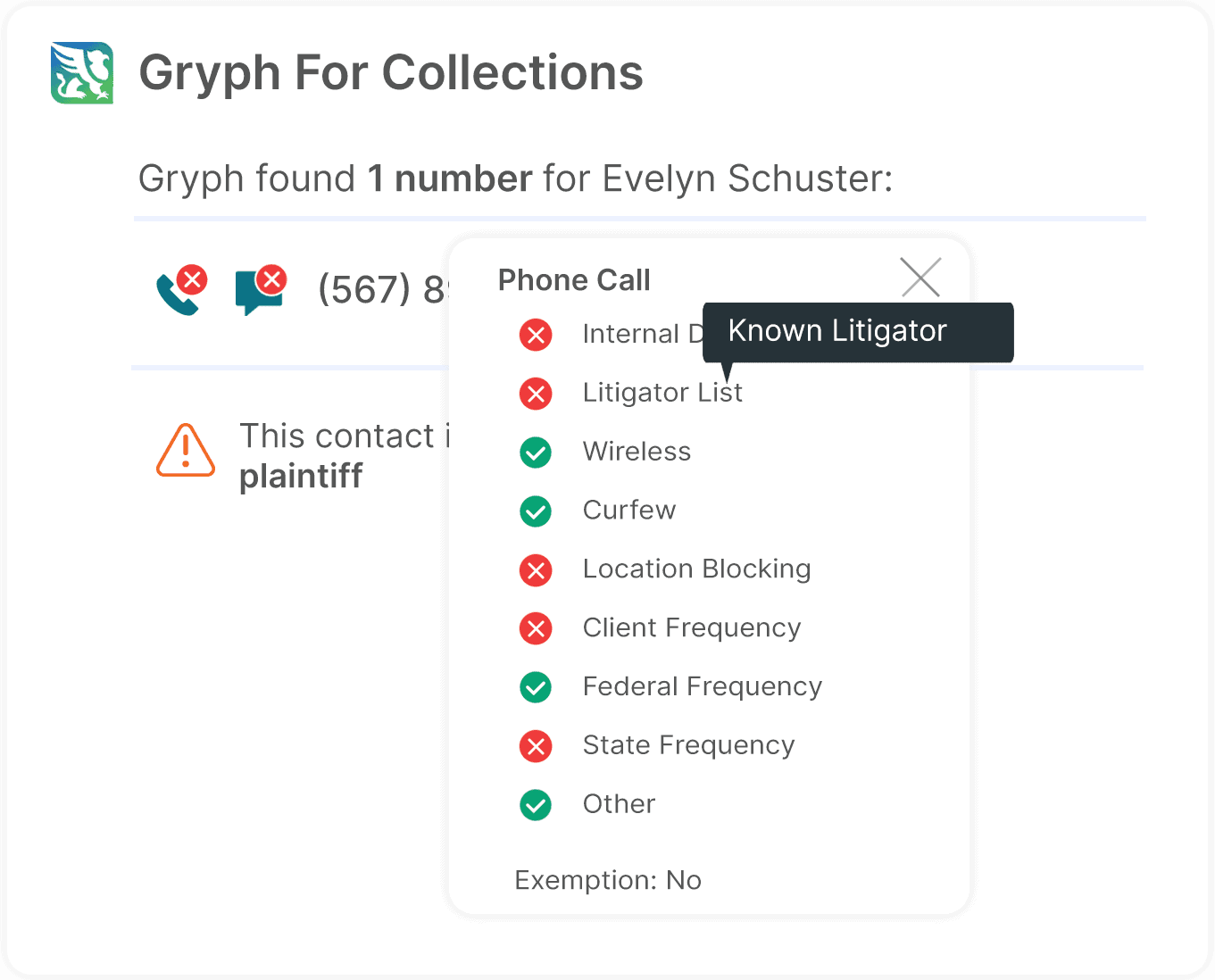 Avoid known litigators
There are well-known TCPA, DNC, and collections attorneys who specifically focus on creating traps for companies that make outbound calls.
Gryphon safeguards enterprises from predatory plaintiffs by automatically blocking calls to known TCPA, DNC, and collections litigators and professional plaintiffs, minimizing exposure to costly litigation and fines.
Maximize limited bandwidth
Abiding by state and federal regulations for managing outbound campaigns is both time consuming and expensive.
Enterprises must commit massive amounts of time and legal resources to keep up with the countless regulations of an ever-changing compliance landscape.
Gryph for Compliance and Gryph for Collections remove this burden by continuously updating our technology to ensure each of the newest regulations and changing laws are reflected in our solution.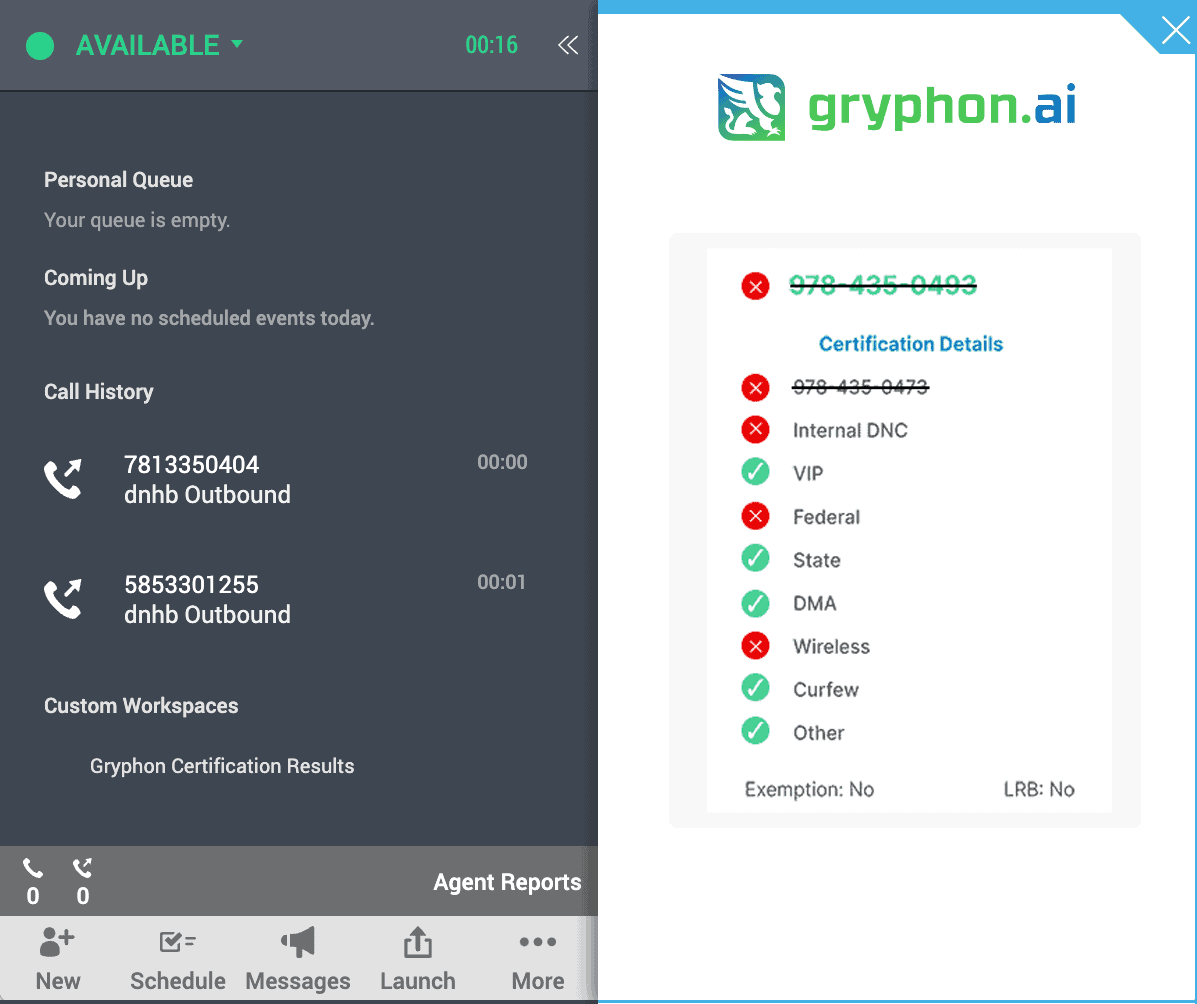 Streamline your enterprise compliance process
Large enterprises have specific needs to ensure their vendor partners can support large volumes of customer interactions. Our solutions support stringent service-level agreements (SLAs) for the nation's largest Fortune 500 organizations.
Whether processing 10,000 or 10 million conversations a day, Gryphon ONE provides enterprise scalability without sacrificing performance.
With Gryph for Compliance, organizations can power centralized enforcement of marketing compliance and business-specific needs across the enterprise to ensure siloed systems and business units maintain the same stringent risk management protocols.
Secure proof of compliance with automated audit tracking
By generating an automated audit trail, Gryphon delivers the final, but critical, component in a comprehensive compliance program.
Our platform includes real-time tracking and call recording for all outbound interactions.
These fully customizable reports are stored in a centralized location for easy reference should you unexpectedly need to prove compliance.