Mitigate risk
of non-compliance without slowing down sales progression
Protect your company's reputation with the industry's leading cloud-based, integrated real-time sales compliance software that will mitigate DNC and TCPA risk without slowing your sales process.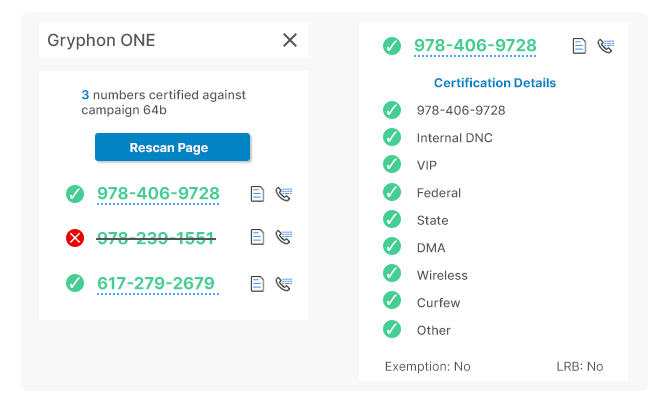 Trusted by
top industry innovators:










Ensure company-wide adherence to regulatory requirements, internal business rules, and consumer preferences

Mitigate TCPA and DNC lawsuit risk with real-time compliance and audit tracking

Maintain a comprehensive audit trail with Gryphon's call recording solution
Safeguard company interactions regardless of location or device
Mitigate your company's sales team risk
of DNC and TCPA non-compliance
Reduce spend with outbound phone dialing included at no per-minute cost
Leverage Gryphon's tier-one, click-to dial-telephony for outbound calling to ensure the highest quality data entering your CRM and sales tech tools.
With 99.999% uptime, your team will maximize sales efficiency during peak calling times to make more connections and progress more deals.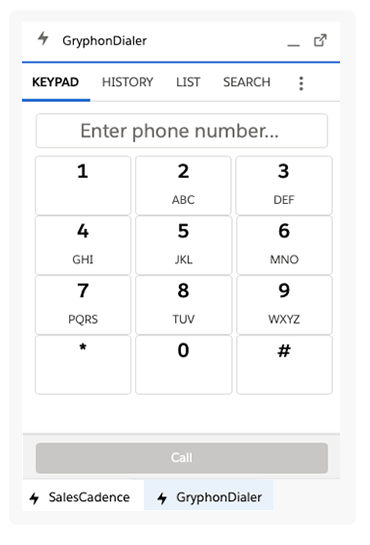 Streamline sales processes within your company's CRM
Gryphon delivers real-time compliance from within any CRM Contact, Lead, Account, or custom object view, avoiding the need to process calls in multiple platforms.
Visual indicators next to each number or email inform the user if a contact is blocked or allowed to be contacted.
Call data and the resulting dispositions are automatically recorded into your enterprise CRM to avoid the often flawed and time-consuming step of keying in data.

Automated DNC and TCPA compliance reduces individual team member risk
Automate screening and blocking of outbound calls in real-time, eliminating TCPA and DNC risk.
Manage established business relationships (EBRs), internal do not call lists (IDNCs), opt-outs, opt-ins, and contact preferences. Apply frequency and location blocks to conform with customer preferences and campaign guidelines.
Easily collect opt-ins and opt-outs and other preferences, like desired contact frequency, by channel or campaign. Pre-call prompts also warn reps and agents about specific restrictions such as consent to record, do-not-call block, age limitations, curfews, or no rebuttal/permission to continue.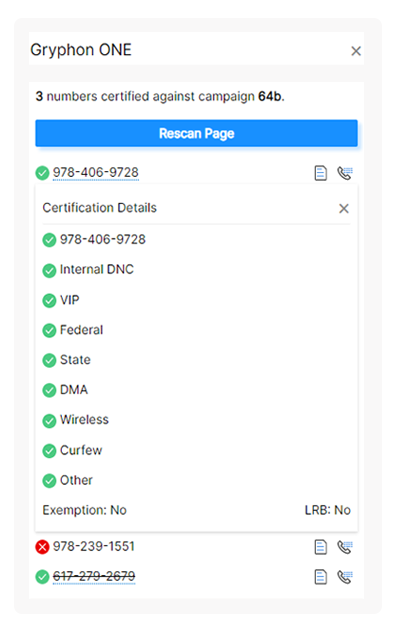 Integrated call recording provides key reporting and audit trails
View comprehensive audit information in one location. Construct and view reports by campaign or date range that display number of calls, talk time, average time/call, DNC blocks, DNC adds, and any configured result tags. Drill down by agent for a complete audit trail. Gryphon's Automated Compliance automatically redacts sensitive information to ensure privacy and compliance.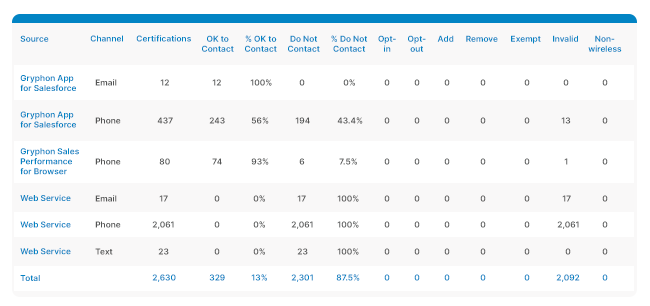 Mitigate long-term risk with compliance consulting
Our compliance consulting professionals stay current with regulation and understand the complexities of developing an internal program to protect your brand. We help you conduct privacy audits and assessments as well as implement guidelines to ensure compliance with all relevant marketing privacy regulations across all channels.
Our team helps you establish policies and procedures to monitor and enforce compliance. We'll identify existing processes that can be improved to increase your efficiency and cost-effectiveness. We'll account for your industry-specific challenges as well as unique business goals, policies, and marketing programs.
Our on-call legal counsel acts as an extension of your compliance team to address immediate compliance concerns and risk analysis.