Morgan J Ingram: Consistency and Breaking Through the Noise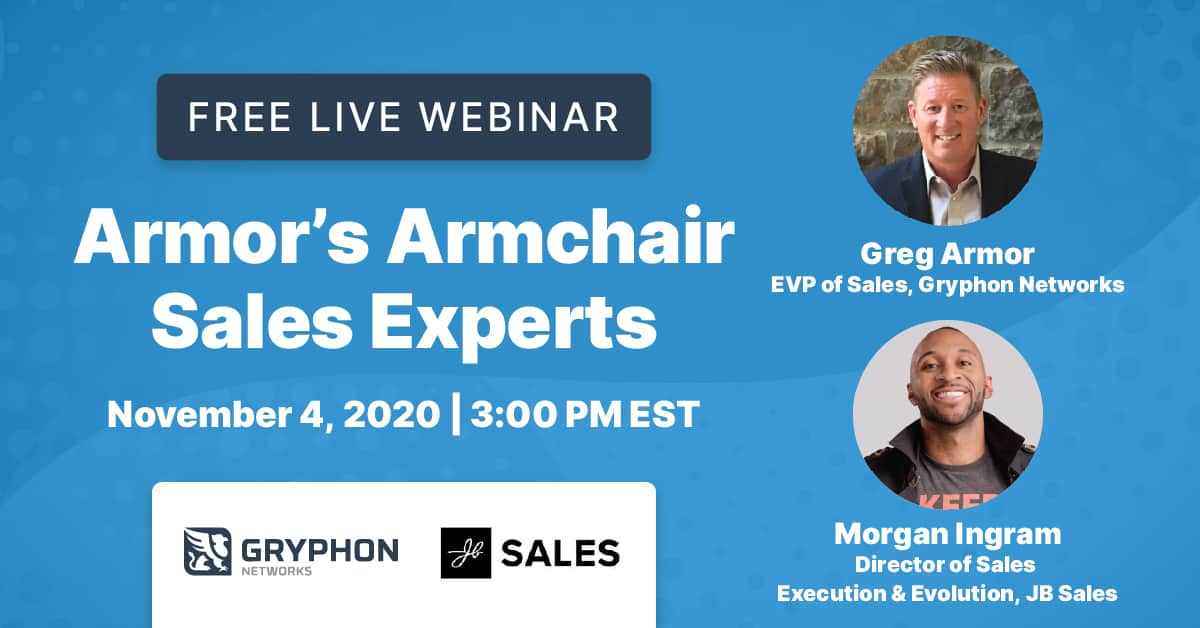 Morgan J. Ingram, Director of Sales Execution and Evolution at JB Sales Training, joined Gryphon's Greg Armor for a webinar to discuss sales trends and best practices, and what tactics he utilized to grow his career from SDR to a back-to-back LinkedIn Top Sales Voice of 2018 and 2019:
Gryphon Networks: As a top LinkedIn influencer, and creator of SDR Chronicles, can you share how you got to where you are today, and how you started your career in sales?
Morgan J. Ingram: I cold-called the VP of sales at a company called Terminus out of Atlanta. That's how I got my role. I was the 20th employee and the 3rd SDR. That's how my journey really started. Then, I realized there was a gap in the marketplace – there was no SDR content made by an SDR. So, I started posting content consistently as an SDR.
I had been doing motivational speaking content out of college, so I was used to making videos. But my biggest hesitation was that I had just started in sales, so why would I be making content? There were people in the space who had been there for 20-25 years who had stories to tell. I didn't have a story to tell yet, but I could document and tell people what I was going through along my journey.
You have to put yourself out there, because the results are the results. But, if are able to get those results, articulate how you got there, and support other people on their journey, it shows another degree of your brand and your reputation in the marketplace.
GN: What are some important things you like to drive home in conversations you have with people during training sessions?
MJI: The most important thing is consistency. It's about being consistent daily. I could tell you about cold calling techniques, how to handle rejection, and things of that nature. But are you willing to do your calls every day? Are you willing to take the time to do personalized notes every day? Are you willing to adjust and look at your pipeline and CRM? I tell people that a lot of this has to do with consistency. The more consistent that you are, the more results you are going to get.
Another thing that I tell people is to think about how you can break through the noise. Don't do what everyone else is doing. Stop starting your cold emails with "hope all is well." Just don't do it. I promise you – it is not going to help you at all. I tell people to think outside of the box and think about what you could be doing differently. Even if you haven't done it before and you're afraid to do it, you should do it. If you are doing the same thing month after month, even if you are successful, you know that works. So, try something else to see if you could get even better than you are now.
I tell people, you have to grow 1% every single day. I'm always trying out new tactics and I'm always willing to put myself out there. I try to stay ahead of the curve because if I'm not, I'm behind the curve. That means less results and not hitting the targets that I like to hit.
So, the three main things would be:
Being consistent in everything that you're doing and having a process and a system.
Making sure you're growing 1% every single day.
Breaking through the noise, whether that is sending videos, changing your subject lines, or doing unique intros while cold calling to really stand out in the marketplace.
GN: Can you share a few tactics you used early on in your career that you think helped make you successful today?
MJI: For email, I tell people to keep their email between two and five sentences. This is key, because a lot of people want to put in all of their information, but most prospects don't have time for that – especially if you're speaking to an executive. You want to keep it the length of a text, not very long-winded.
Additionally, I say less than five words in the subject line. Your first four to five words are important. Ask yourself, what can I put in the first four to five words to truly stand out? There are a couple of things you could do; "Based on my research," or "I noticed…" or "Your website…" all show that you've done some type of research, and you're going to be relevant to this person.
When you're thinking about emailing, don't think about it as a machine gun approach where you're throwing five value propositions into one email. You want to think about this as a dart approach. You may have value propositions that you want to send to someone, but to keep it between two to five sentences – you're sending "darts" in each one. If you keep your emails that length, you're set.
The last thing I will add is to always think of your emails as if they are being read on a mobile device. If you think of it on a laptop, your email will be too long-winded. If you think of it as the person reading it on their phone and you keep it short, your success will be higher.
Fill out the form below to gain access to the full webinar
As if uncertain economic conditions weren't presenting enough of a challenge for organizations going into 2023, risk is also expanding in the form of constantly evolving Do-Not-Call (DNC) and TCPA…
When considering your business outlook for 2023, have you accounted for the laundry list of ever-changing marketing compliance regulations that your sales organization must follow to avoid costly fines and…
As organizations are growing their tech stacks to assist their remote and hybrid teams through the sales process, a conversation intelligence (CI) tool can offer insights into prospect and customer…