Turn

sales conversations into revenue

in real-time

Empower your team with real-time in-call sales coaching with Gryph, our Al-powered sales assistant that delivers advice the moment your reps need it.

From product and promotional cues to competitive intel, Gryph takes your conversations to the next level with our powerful sales coaching software.
Trusted by
top industry innovators:










Provide in-the-moment coaching during live calls through AI-powered content

Onboard and empower new talent faster as they ramp during live calls

Deliver real-time custom offers and battlecards with best-in-class messaging to impact positive call outcomes
Seamless integration with any CRM, video platform or web browser with fast implementation for higher speed-to-value
Instantly

improve call outcomes

with AI-powered guided sales coaching
Access Gryphon from any CRM or web browser
Our intelligent AI-powered sales assistant, Gryph, is embedded into your CRM or web extension to easily and actively process conversations in real-time regardless of your conversation method.
Gryph is available to begin transcribing and coaching the moment an outbound call is placed.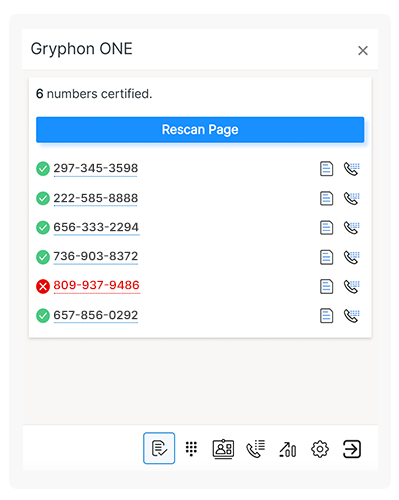 Provide reps with instant coaching assistance
Steer any conversation in the right direction. Gryph transcribes calls in real-time and displays customized conversation cards for guided coaching during an active call.
Speech transcriptions trigger screen prompts with related content during an active call with feedback sentiment (Thumbs Up/Down) to continuously train the AI for future performance.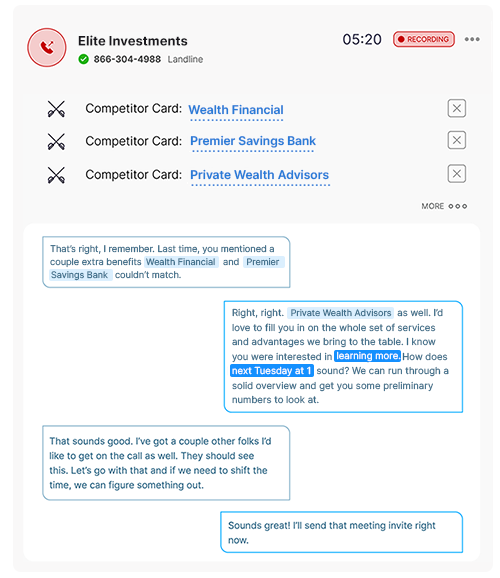 Provide custom content and streamline messaging
Display controlled, custom content on competitors, products, offers or any messaging that will guide your team to successful calls.
Content cards are easy to create and manage, with availability in minutes.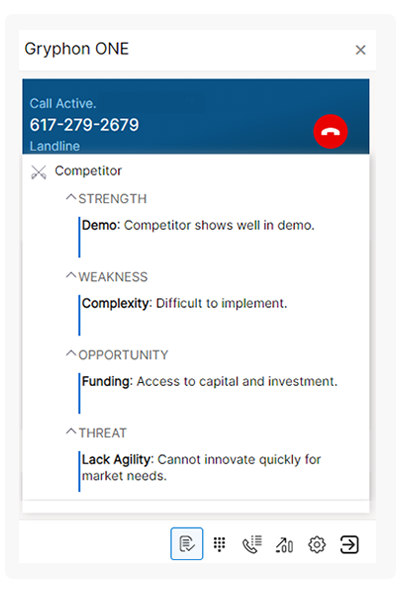 Enable adherence to scripts and sales methodologies
Gryph enables leaders to define scripts and guide conversations to uncover key questions for meeting sales criteria needs such as MEDDIC, SPIN, Sandler, SNAP or any other key methodology needed to drive deal progression.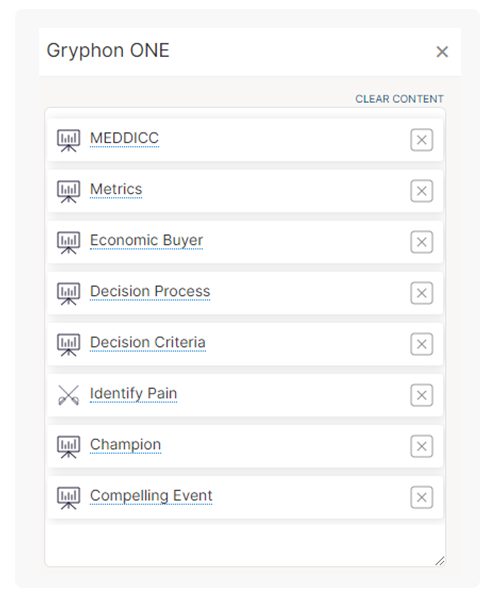 Link to additional resources in real-time
Gryph also integrates with any content management system to provide additional real-time content support during live conversations. No changes to your current content management system are needed.