Smarter. Easier. More Insightful.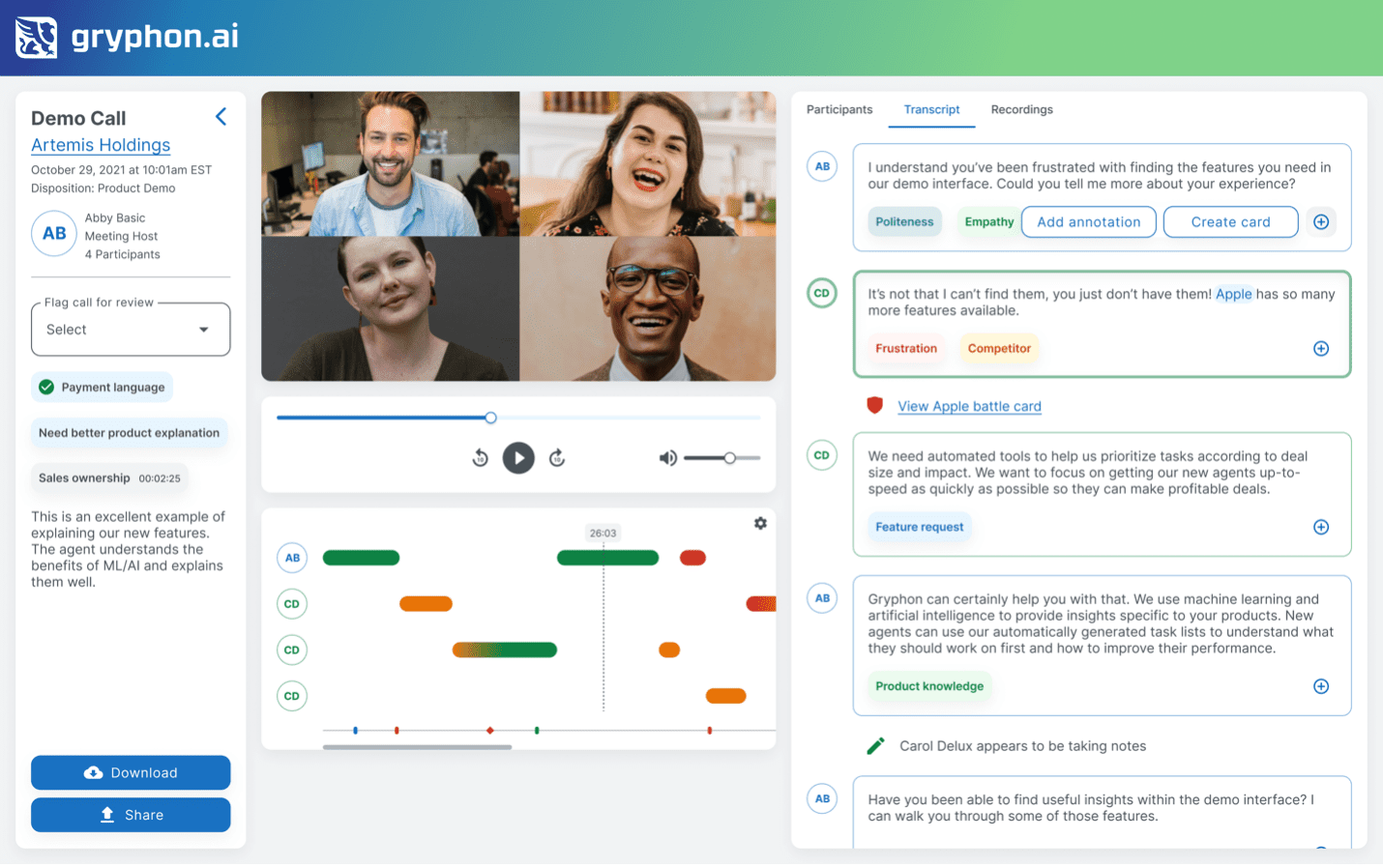 Our newest product updates make it easier than ever for you to create, call, and coach your way to increased revenue and maximized performance!
Gryph Admin Updates

Now, in addition to creating custom Gryph cards, you can also create custom call Contexts and Questions quickly and easily.
Availability: NOW!
Key features and functionality:
NEW Contexts: Create and edit call Contexts to help reps identify the purpose of a call and activate the appropriate Scripts, Questions, and Gryph cards associated with the Context (e.g., cold call, discovery, demo, etc.)
NEW Questions: Create and edit Questions reps should ask based on the Context of the call. New Question functionality also allows authorized users to reorder Questions based on the call Context.
NEW Scripts: Create and edit call Scripts to expertly guide reps through a conversation with suggested talking points based on the call Context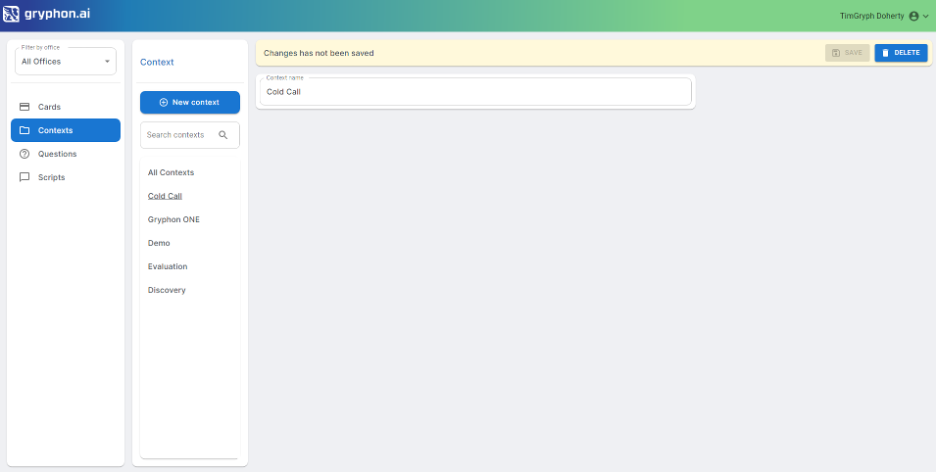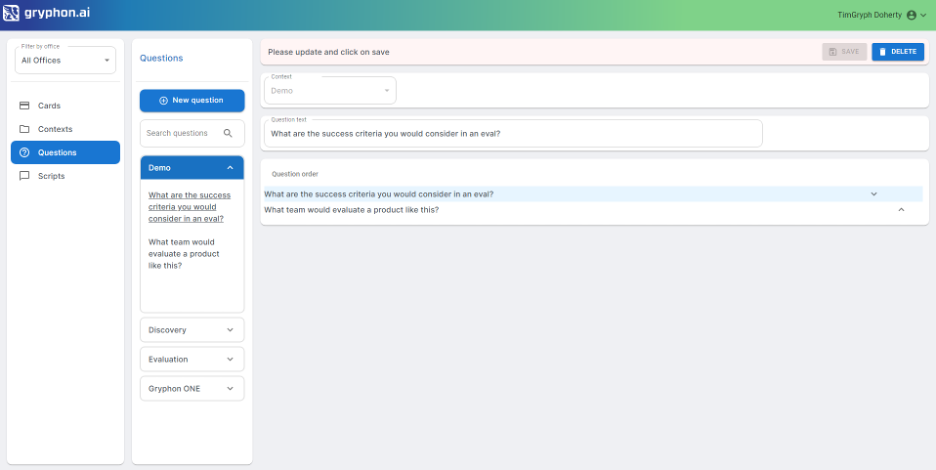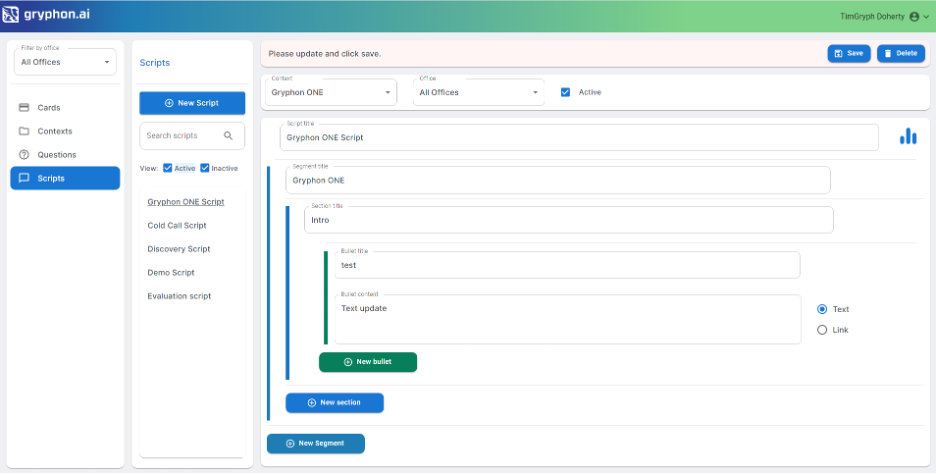 Gryph Updates
Take advantage of CRM data and calls all in one place.
Availability: NOW!
Key features and functionality:NEWSearch functionality: Search and load the specific Account, Lead, Contact, and Opportunity for a call directly from Gryph (for clients with CRM Data Syncing enabled)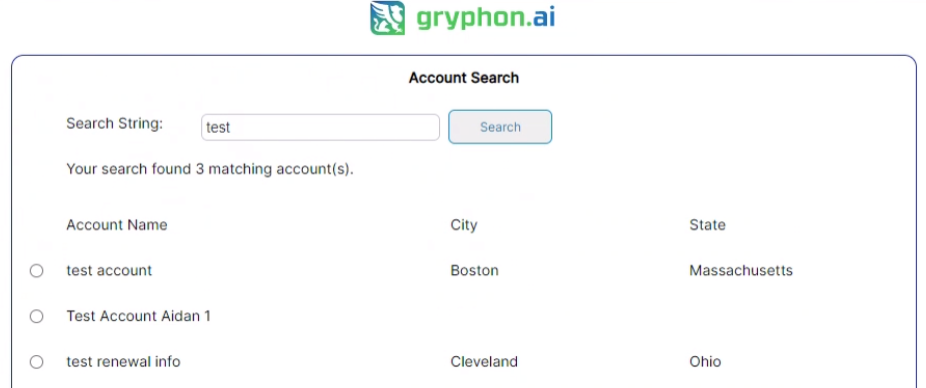 Conversation Intelligence – Post-Call Analysis Updates
Leverage smarter ways to flag, coach, and share sales call success.
Availability: NOW!
Key Features and Functionality:
NEW redesigned page: Leverage a brand-new layout with a tabbed approach to related call details including Participants, Transcripts, and Recordings
NEW redesigned transcripts: Take advantage of a more conversational layout that highlights key takeaways from the conversation including AI-driven key moments, Gryph cards, and speaker sentiment
NEW utterance flagging: Empower reps to flag specific points in a call for a deeper analysis of the conversation such as competitive, market, product, and sales methodology insights.
NEW transcript based Gryph card creator: Enable reps to create Gryph cards based on the highs and lows of a given conversation to drive custom playbooks, personalized talk tracks, and the replication of best practices.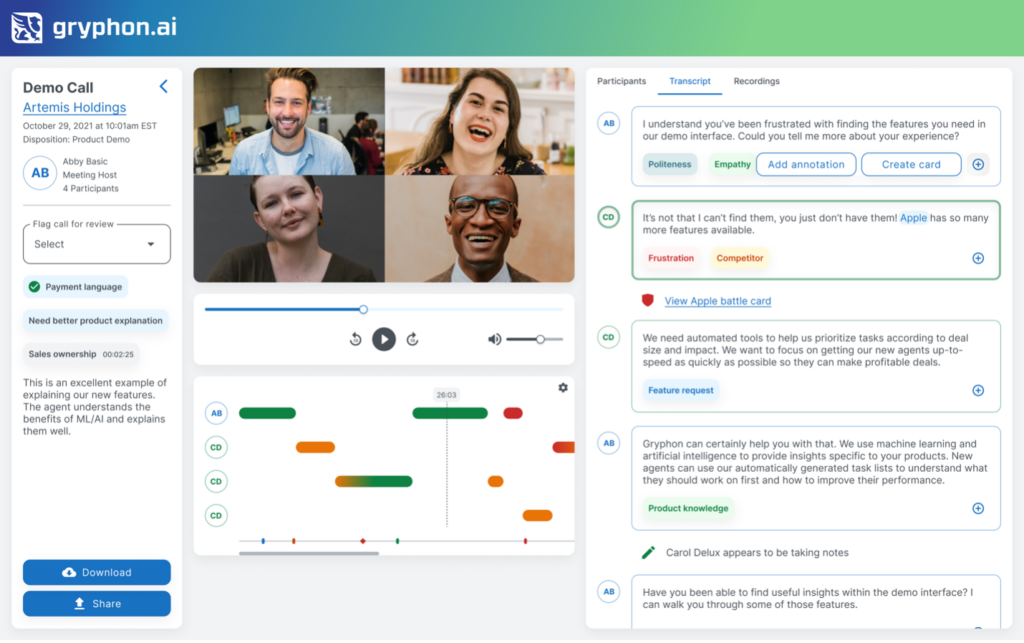 Learn more about how Gryph can help your team maximize sales performance and revenue!
Many businesses rely on Do Not Call (DNC) scrubbing tools to comply with Federal, State, and other regulations as they face the challenge of maintaining marketing compliance. But, with the…
In the fast-paced world of marketing compliance and consumer debt collection, staying up to date with the latest regulations and maintaining compliance is crucial for businesses. The ever-evolving regulatory landscape…
Gryphon.ai meets real-time compliance needs for enterprise customers on NICE's award-winning cloud–native CXone platform BOSTON, Wednesday, August 2, 2023 — Gryphon.ai today announced its Gryph automated compliance and collections solution…