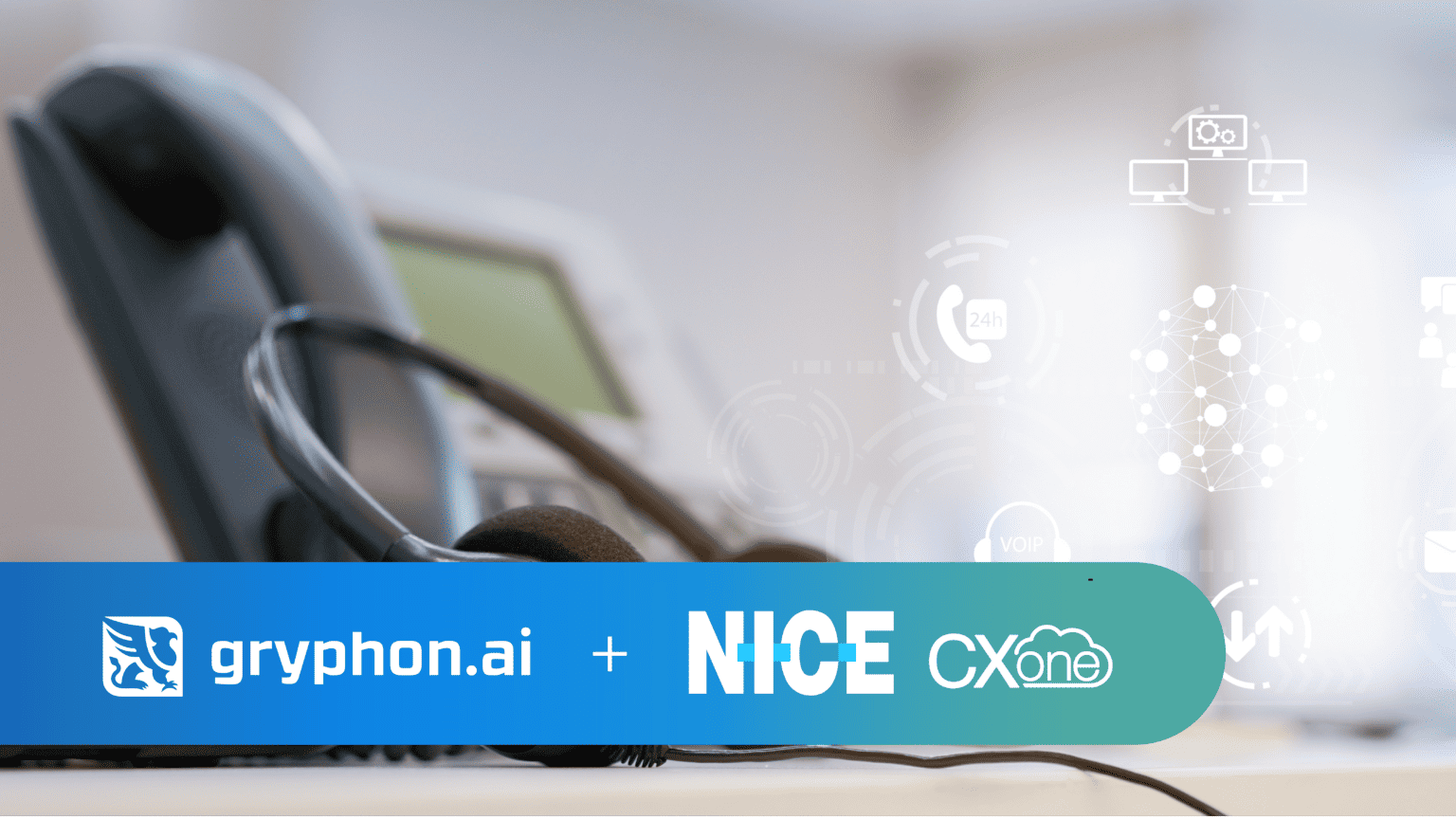 Gryphon.ai meets real-time compliance needs for enterprise customers on NICE's award-winning cloud–native CXone platform
BOSTON, Wednesday, August 2, 2023 — Gryphon.ai today announced its Gryph automated compliance and collections solution is now integrated with NICE CXone. As strategic solution partners, NICE, an industry leader in customer experience and AI, has implemented Gryphon.ai's best-in-class compliance tool, Gryph Compliance, as part of the NICE platform to assess every phone number in real-time against TCPA, state, federal, and other Do-Not-Call (DNC) telemarketing regulations so agents can deliver on customer success while shielding their brand reputation. Customers utilizing the CXone platform will also have access to Gryph for Collections, which allows enterprises to avoid costly mistakes related to debt collection and eliminate threats and risk factors from TCPA, Consumer Financial Protection Bureau (CFPB), Fair Debt Collection Practices Act (FDCPA), and state regulations.
"NICE has been a trusted leader in driving innovative customer experiences for decades now. We're thrilled to have our compliance solution, the most advanced real-time compliance tool in the market, integrated within the NICE CXone platform to support agents so they can focus on improving customer satisfaction and driving revenue without worrying about non-compliance," said Clay McNaught, COO at Gryphon.ai. "With Gryph Compliance for NICE, enterprises can leverage compliant CCaaS practices that put functionality up front for dialers while providing a seamless end-user experience. We're passionate about protecting organizations from compliance risk and reducing the strain on manual processing resources. This integration with NICE allows us to do just that."
Gryph Compliance for NICE helps agents steer clear of DNC and TCPA violations during calls through automated, real-time screening of outbound calls and campaigns, including threats from debt collectors through Gryph for Collections. With new TCPA and DNC legislation coming out every week from various states and other jurisdictions, enterprises struggle to keep up with the complexity of today's compliance landscape. By working on the NICE platform integrated with Gryph Compliance for NICE, enterprises can reduce hours of manual labor or list scrubs and instead have their agents focus on customer success, knowing that all calls are screened for TCPA and DNC compliance. Gryphon.ai's comprehensive compliance and collections suite also adheres to exacting regulations for consumer debt collection interactions with integrated call capture that drives indisputable audit trails, helping to ensure accurate reporting and auditing. By partnering together, Gryphon.ai and NICE are helping organizations across insurance, banking, healthcare and other industries generate revenue without worrying about costly compliance mistakes.
"NICE is dedicated to helping brands deliver seamless CX. Integrating Gryph Compliance into our CXone platform is helping drive enterprises' revenue growth," said Barry Cooper, President, CX Division, NICE. "At NICE, we're committed to our partners and we're excited to see what our customers can accomplish with these enhanced compliance solutions."
Visit https://www.nice.com/resources/gryphon-marketing-compliance.
About Gryphon.ai
Gryphon.ai, the leader in compliance and AI-powered conversation intelligence, is the only solution in the market providing real-time conversation intelligence and automated compliance for sales and customer service teams. Gryphon.ai's AI-powered tool, Gryph, guides each conversation with real-time intelligence to provide a best-in-class experience for both agents and end users. Gryphon.ai's proprietary compliance engine automatically screens all outbound communications against TCPA, collections, state, federal, and other Do-Not-Call lists so enterprises can drive revenue while avoiding costly non-compliance fees. Gryphon.ai's ability to be in the path of the call provides real-time recommendations and in-the-moment content based on live conversations. Post-call reporting provides agents with immediate visibility into the quality of the call through our advanced sentiment analysis.  
For over 20 years, Fortune 500 organizations have allowed Gryphon to manage their conversations. The foundation of Gryphon.ai is a carrier-grade communication network that provides crystal-clear audio for highly accurate transcription and relevant real-time intelligence for enterprise CX and sales needs. Gryphon.ai provides the ability to create the "perfect" conversation every time! 
If you are ready to take your conversations to the next level, contact the Gryphon.ai team at (855) 554-7974 or visit www.gryphon.ai. 
About NICE
With NICE (Nasdaq: NICE), it's never been easier for organizations of all sizes around the globe to create extraordinary customer experiences while meeting key business metrics. Featuring the world's #1 cloud native customer experience platform, CXone, NICE is a worldwide leader in AI-powered self-service and agent-assisted CX software for the contact center – and beyond. Over 25,000 organizations in more than 150 countries, including over 85 of the Fortune 100 companies, partner with NICE to transform – and elevate – every customer interaction. www.nice.com.
Evaluation Based on Completeness of Strategy and Performance BOSTON, Oct. 10, 2023 – Gryphon.ai, the leader in compliance and AI-powered conversation intelligence, today announced it has been positioned by Aragon…
Is your business legally calling consumers in these states? View the full state-by-state map here While navigating shifting market conditions in 2023, most organizations cannot afford TCPA or…
Gryphon.ai meets real-time compliance needs for enterprise customers on NICE's award-winning cloud–native CXone platform BOSTON, Wednesday, August 2, 2023 — Gryphon.ai today announced its Gryph automated compliance and collections solution…